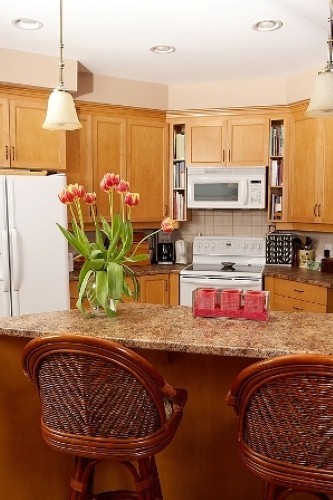 If you've been looking for an opportunity to get a little work done around the house, this upcoming Columbus Day weekend may be just the chance you need. While you're sure to hit up a harvest festival or Oktoberfest somewhere nearby, why not spend your mornings and early afternoons overseeing a renovation project or getting down and dirty yourself with a little DIY elbow grease? Looking for a few prime ideas to help you rethink, remake and renovate your home? Consider these options.
Get some stylish new boards, tile or stone underfoot
After a summer full of mud and your floors taking plenty of wear and tear, one of the things you may want to replace is what's right under your feet. Investing in new flooring - whether hardwood, tile stone or concrete - can help remake a space aesthetically in ways you wouldn't imagine. Switching from vinyl or laminate in the kitchen to a gorgeous new hardwood is sure to make all the difference!
Rethink your heating system
While you're redoing your flooring, why not install a new radiant heat system? Radiant heat flooring is an excellent way to help improve your home's green rating and reduce your carbon footprint - but it's also sure to lower your utilities bill and improve your air quality. Rather than pushing hot air around dusty ducts with forced air, radiant heat uses completely natural convection currents to heat you and your room.
Reseal windows, install new drapery
Speaking of energy efficiency, don't throw money out the window with leaks and drafts. Reseal your windows before the winter sets in for good, but also consider hanging new drapery. Thick curtains will help your home retain valuable heat and stay cozy. With a high quality fabric or design, they can bring your space's décor to life too!
Upgrade your kitchen
Now that the grills soon to be retired for the season, give you kitchen that upgrade it dearly needs before the weather gets too cold and indoor cooking season doesn't allow for renovation time. Why not invest in an energy efficient dishwasher and fridge? Redo your range and oven as well for maximum style and sleek good looks. While you're upgrading all your fixtures, try giving the space a new coat of paint as well - warm and earthy hues like hazlenut, pumpkin or even an oxblood red will contrast with the coming season's snowy whites. Come winter, there won't be any place as comfortable as a newly restyled kitchen full of the scents of baking.
---