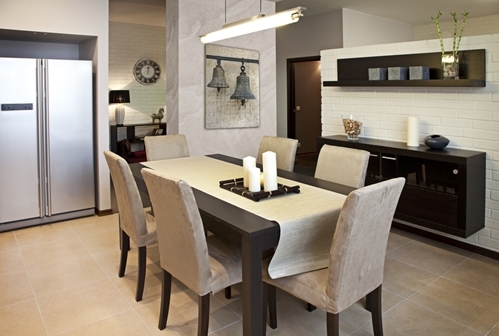 Many homeowners taking part in a kitchen renovation project budget for items that will make their space more attractive and comfortable. For instance, a new natural tile floor will change the look of the room, but radiant floor heating underneath it will help provide warm floors and superior heating to boot.
While many people turn to professional designers to offer insight on products that will help them achieve the perfect balance of beauty and comfort, experts say it's important to add unique touches to your kitchen to make it more personalized.
One way to ensure your room doesn't look like everyone else's is to embrace the idea of mixing and matching. Design professionals say a kitchen that combines colors, textures, shapes and patterns is a great way to express your style and look fantastic. After all, just because everything doesn't match, doesn't mean your space isn't perfectly harmonious.
Choose different cabinets
One of the best ways to add some interest to your kitchen project is to choose different cabinet finishes or styles. Try different upper and lower cabinets or add an island that compliments your other cabinetry without being the same.
"The more opposite the better," architect and designer Laurie Haefele told This Old House magazine.
Adding glass frosted, clear or other glass fronts to your cabinet doors is another way to break up the room. Different knobs and pulls on your cabinetry can also add interest.
Experiment with different countertops
Why stop at different cabinets? Add a different countertop on your island to give your kitchen a truly unique and professional look. Try marble, concrete or stainless steel to stay up-to-date on the latest trends.
Think about geometry
HGTV recommends using shapes to make your kitchen one-of-a-kind. Consider different edges on your countertops or a rounded sink in your island to break up the monotony a room with all the same shapes may reflect.
You can also choose different shaped furniture to give the kitchen a unique feel. Mix a rectangular table with chairs with a rounded back, for example.
While mixing and matching is not only stylish, it can also be economical. After all, you can keep some elements in the space as is and add contrasting ones to really make it stand out. 
Remember that there really are no rules when it comes to home decor. Enlist the help of a design professional or bring home lots of samples to ensure a harmonious feel to your non-cookie cutter kitchen.
---
Did you find this post helpful?
Let us know by giving it some applause.
---
---