After one of the coldest and snowiest—and what feels like the longest—winters in memory, spring is finally starting to make a tentative appearance in much of the country.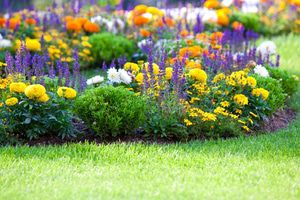 While the cool weather may have delayed spring for some, others refuse to be deterred by Mother Nature's whims. Jill Davis, a garden designer from Kildeer, Ill. refused to put her gardening plans on hold any longer, and came up with a creative solution to get her seedlings off to a good start for the season. "It's been such a horrible spring; you need the warmth of a heated floor to germinate," said Davis.
Davis and her husband Eric installed a WarmlyYours floor heating system underneath the ceramic tile in their master bathroom 10 years ago. While they have enjoyed the benefits radiant heat has for humans—and even for one comfort-loving cat—for years, this is the first year she has tried it on plants.
"They sell warming mats, flat heating mats, for seed trays. I thought, that's ridiculous, I'll just use my bathroom floor," shared Davis.
An experienced gardener, as well as a pragmatic problem solver, the self-described garden coach has been gardening for 25 years and operating her own garden design business, Jill Davis Design, for the past 11 years. The Davises' 19 perennial gardens, including an impressive 17 different cultivars of hydrangeas, were featured in the Long Grove-Kildeer Garden Club's 2013 garden walk.
This is the first year, prompted in part by the cold weather, that Davis has experimented with using her radiant floor heating to germinate her annuals. She's currently growing 18 individual pots. The plants are just about to sprout, and they are doing quite well. She started them on the heated floors in her bathroom, and just recently moved them to a sunny window with southern exposure, as there is not much sunlight in the bathroom.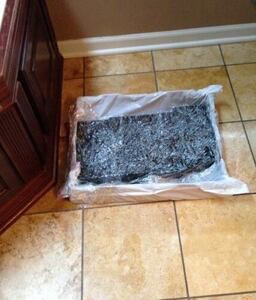 According to Davis, electric floor heat is perfect for starting seedlings: it warms the soil, so the seeds think it's spring and begin to grow. "It's actually brilliant. It just warms them so gently. Plus, it's a big bathroom, so there's plenty of airflow," she said.
Davis points out that good airflow is essential for keeping the seedlings healthy and keeping the proper moisture level in the soil. In addition to that, she recommends watering the seed trays from the bottom, so direct watering from the top does not wash the seeds out of place. Davis also advises covering the seed trays to trap the heat from the floor, creating a greenhouse effect.
"I have cellophane over the top, like a terrarium. It sort of takes care of itself, " she shared. Then, once the seeds begin to germinate, remove the plastic and place the trays in a sunny location.
Hopefully, it won't be too long before the warm spring weather arrives in earnest and Davis' plantings will be ready to be transplanted to the gardens outside. In the meantime, the unseasonably cool temperatures outdoors are no problem, as the seedlings and the Davis family continue to enjoy the warmth and comfort of their radiant floor heat.
"I love it. My cat loves it, " said Davis. "I tell everybody to throw it in when they are remodeling. I wish I'd done the whole house."
Have you tried using your radiant floor heat for gardening or other creative ways? If so, we want hear about it. Post your story on the WarmlyYours Facebook page or tweet us at @WarmlyYours.
You can find out more about Jill Davis' garden advice and experience on the Jill Davis Garden Design Facebook page or contact her on Twitter @jilldesign.
---