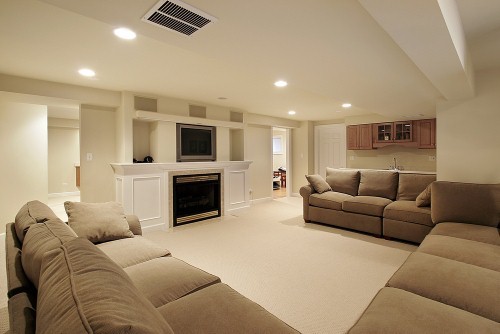 If you have a den in the basement of your home that gets plenty of use, you'll want to ensure that it has an interior design that makes everyone feel cozy and warm despite it being an underground space. However, it can be difficult to achieve these decorating goals, especially if your den lacks windows that can allow natural light to flow into the room. Here are some tips on how you can transform your den from dark and dreary to welcoming and fun for the whole family.
1. Don't underestimate the power of radiant heating.
Because your den is in an underground space, it'll likely be a bit chillier than the rest of the house due to the fact that heat rises. That being said, radiant floor heating can do wonders for the comfort of your den. Installing it can also reduce the need to crank the thermostat in this room to keep it warm year-round.
2. Choose cozy colors.
Believe it or not, there's such thing as warm, cozy colors - think red, yellow and orange. Even neutrals can help create a comfortable feeling, such as eggshell, brown sugar and sandy beige. Good Housekeeping magazine recommends considering these colors for your den, especially if it doesn't have any windows. Without sunlight, a space can quickly begin feeling depressing. Warm hues can help prevent this type of environment from developing.
3. Make organization a priority.
It's in your best interest to seek furnishings that help you keep your den organized and clean over time. By preventing messes from evolving, you can maintain the peaceful, beautiful interior of your den, according to House Beautiful magazine. When shopping for furnishings and decorations, look for fabrics and materials that are resistant to wear and tear as well.
4. Pick a theme.
If you're having trouble creating an interior design for your den that gets people excited about using the space, you might want to consider brainstorming a theme for the room. Whether it's like the ocean or the French countryside, a certain style can help you select the rest of the furnishings and decor for the space. At the end of the day, the designing process will go more smoothly.
Whether your den is in dire need of TLC or you simply think that it could be spruced up, these four tips can help you make your decor dreams come true.