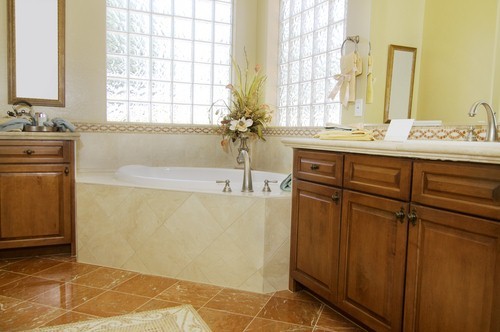 The summer months are packed with many holidays and even more holiday travelers. While you may do some visiting yourself, you can expect this to be the season that tests your guest bedroom's endurance. But the only spot that might get more traffic than the bedroom is the guest bath. While not every home can offer the spa-like amenities of a five-star hotel, you can come close. Consider these options in your guest bathroom if you want to pamper your visitors this summer.
1. Towel warmers. WarmlyYours is one of the leaders in radiant heat home technology, and its range of towel warmers is both attractive and practical. Crafted in stainless steel and available in several styles - from traditional to serpentine racks - these are sure to keep your guests toasty, dry and impressed.
2. A spacious vanity. While your guest bathroom might not have the size and scope of the master bath, make sure overnight visitors have the space they need to spread out their toiletries. Lots of counter space, especially for those traveling in pairs, is essential. Alongside this tip, remember not to clutter up what counter space there is with excess soap dishes, toothbrush holders and tissue boxes.
3. Calming colors. If your guest bathroom is currently a deep oxblood red or highlighter yellow, you've got some painting to do. After a day of travel or night of sleep, your visitors aren't going to want to stumble into anything that isn't calming. Go with earth tones and seaside colors - the sort of calming décor that reminds them they're on vacation.
4. Amenities closet. This doesn't have to be in the bathroom - maybe in the guest bedroom or the hallway - but just like a hotel, you shouldn't expect your guests to remember every spare toiletry. Make sure they've got their own store of fresh towels, bars of soap, shampoo, toilet paper and everything else they might need over the course of their stay.
5. Natural scents. Getting your bathroom to smell wonderful can be as simple as opening a window, but in any case, you're going to want to bring in some livelier touches than candles or air fresheners. Cut some flowers and place them on a sill, or put a dish of potpourri in a cabinet drawer. Avoid a musty bathroom to keep your guests in a good mood.
Like this post? Subscribe for regular updates
Make sure you don't miss out on the latest news in radiant heating by subscribing to our blog. We'll send you an email with links to the newest posts from WarmlyYours.
We won't share your information and you can unsubscribe at any time with a single click.
---
Did you find this post helpful?
Let us know by giving it some applause.
---
---