Every year the holiday season seems to start a little sooner, doesn't it? The malls are decorated with lots of holiday cheer. And I'm already digging into holiday cookies and hot cocoa, like nobody's business.
Just like you, the staff at WarmlyYours is already thinking about holiday gifts – gifts we'll give our friends and loved ones and also the gifts that you might like to give those special people on your list. Holiday mugs, gift cards and neckties scream "token gift." With WarmlyYours, you can give a meaningful gift this year – the gift of radiant warmth. And, you don't have to wait until the final countdown to get a great deal.
When WarmlyYours has a sale, it's about value and our strategy is simple: Go big or go home!
…We're going BIG!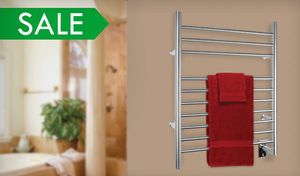 Instead of an ordinary set of bath towels, why not give an Infinity Towel Warmer to that special someone on your list? It can turn any bathroom into something straight out of a luxury hotel. Think of those cold winter days when the worst part of the morning is stepping out of a warm shower only to wrap yourself in a cold, damp towel.
With an Infinity Towel Warmer, that special person on your list will stay cozy in a warm towel or bathrobe all year long. We normally sell the Infinity Towel Warmer (plug-in) for $349 ($369 in Canada), but for ONE DAY ONLY, it's just $262; that's a huge savings! There won't be a better time to get this luxury for your bathroom and what a unique gift for your friend or loved one to enjoy! And, hey, there's no reason you can't get yourself a holiday gift too, right?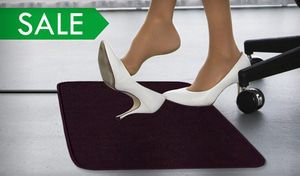 Everyone is on a budget, but it doesn't have to mean only shopping at the Dollar General! How many gifts do you get that you're just not all that excited about – hello, fruit cakes and reindeer-themed scarves? WarmlyYours has you covered this year. Our Under Desk Heater is an inexpensive gift that so many on your list would appreciate.
Whether it's a drafty and chilly work or home office, our Under Desk Heater fits under a desk just as well as under the tree! For just ONE DAY ONLY, WarmlyYours small Under Desk Heater is just $71.00, normally sold for $89.00 – a 20% savings! At this price, you can pick up a few and gift one to your Secret Santa too!
We've been in this business a long time and we know that gifts like these are simple and practical, but at the same time they make people feel warm, luxurious, and comfortable.
Try giving the gift of warmth this year. We guarantee that people will ask you how you came up with such a great idea!