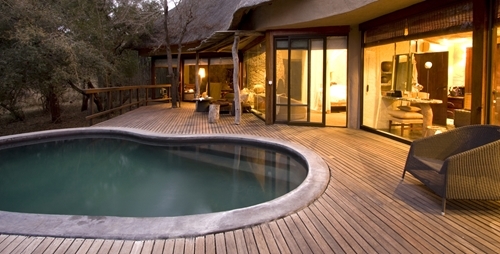 Summer is around the corner, and swim season will soon be in full swing. It may be time for you to update your pool area with design tweaks and new amenities.
Keep things toasty
It may be getting warmer, but chillier days are not unheard of, even in the summer months.
Have perpetually warm towels while you go for a dip with electronic towel warmers. When your pool is heated, getting out into cool air can be a struggle. These devices totally eliminate this issue.
Additionally, the towel warmers are often available hardwired. You can warm the towels up in the bathroom, or if you have an indoor pool, right next to where you'll be swimming.
If you want to keep this radiant heating going throughout the house, you can do so with infloor heating. Switch your floor heat on for when you get out of the pool and happily make your way back indoors. 
Update the pool patio
The surface around your pool may need some sprucing up as well. Stone pavers are a nice alternative to the typical concrete that often surrounds pools.
Available in a number of different varieties and cuts, pavers give your terrace some distinction. Depending on which style you choose, you also may achieve a tastefully antique look.
Furnish the area
If you haven't already, get some furniture to put by the pool. Nothing beats lying back in the summer sun, so get some lounge chairs for your patio area. Of course, make sure they recline sufficiently for the optimal relaxation experience. 
Find a table set that matches these lounge chairs. Whichever one you choose should have an umbrella to block the sunrays on scorching summer days. 
Have fun with the furniture you choose. Patio furniture comes in neutral tones, but also bright colors. Perhaps try a vibrant blue or yellow to spice up the space a bit. 
Consider even bigger changes
Maybe this is the year you really want to invest in your pool area. Especially if you're an entertainer, you can really kick things into gear with certain additions.
A pool-side bar is one of these additions. It doesn't have to be huge as long as it has plenty of shelving, fridge space and a counter. Whether you're throwing a party or spending the afternoon sunbathing, having the resources to shake up a cocktail close by is never a bad thing. 
Whether making big changes or small improvements, renovating a pool area is exciting. Make it your outdoor design project  for this summer. 
Like this post? Subscribe for regular updates
Make sure you don't miss out on the latest news in radiant heating by subscribing to our blog. We'll send you an email with links to the newest posts from WarmlyYours.
We won't share your information and you can unsubscribe at any time with a single click.
---
Did you find this post helpful?
Let us know by giving it some applause.
---
---