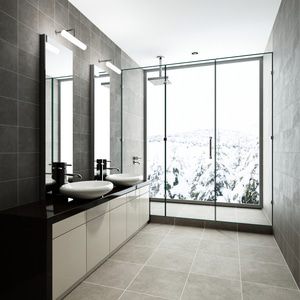 Stepping out of a warm, soothing shower onto a cold, hard floor is one of the daily unpleasantries that many homeowners face. However, it doesn't have to be this way. Homeowners can take advantage of the typically small footprint of their bathroom by installing in-floor heating. Plus, they can do so without breaking the bank.
In this particular case (see floorplan), the customer's bathroom is only 40 square feet, with nearly one-third of it taken up by a vanity and toilet. The room also includes a shower, which is not factored into the square footage of the floorplan.
With only 22.5 square feet of flooring to heat, WarmlyYours' TempZone floor warmer – including a SmartStat thermostat – only costs $506.50. The TempZone Flex Roll itself costs $337.50, and the thermostat costs $169.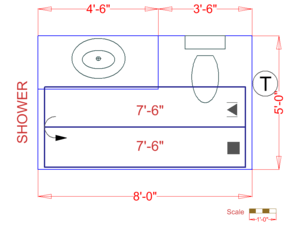 Furthermore, installation of the product is incredibly simple. The TempZone Flex Roll is 1.5 by 15 feet in size, so only one cut and turn is required to fill the space. This makes it extremely easy for DIYers because you won't have to worry about running the cable in any complicated patterns to fit odd spaces.
Most importantly, the 120-volt TempZone Flex Roll emits 15 watts per square foot, ensuring that your room will be evenly covered in warmth when you need it.
At about $15 a square foot (excluding the thermostat), this is an economical primary or supplementary heating source for a bathroom.
For those on a budget, installing in-floor heat in a small bathroom is a great way to overhaul your space without overdrawing your bank account.
Exactly how cost efficient is it for you to install heated floors? To find out, send us a floorplan! Our team will get back to you with a custom installation plan and a free quote the next day. Our SmartPlans™ ensure that heating cables, rolls and mats cover as much of the square footage in your room as possible. They also offer a tool for our technical support team to reference if you run into any challenges during installation.
If you're seeking an instant quote, check out our "Get A Quote" tool online. Within seconds, you'll receive an estimate of how much it would cost to install an in-floor heating system in one of your rooms.
Plus, if you're wondering whether or not you should use in-floor heating as a primary or supplementary heating source, you can use our Heat Loss Calculator tool. All of these tools are here for you – free of cost – on www.warmlyyours.com.

Links:
Instant Quote: www.warmlyyours.com/my_projects/new

Energy Use Calculator: www.warmlyyours.com/tools/cost-calculators

Heat Loss Calculator: www.warmlyyours.com/tools/heatloss-calculator
---