As many residents in Midwest and northeastern U.S. dig out from as much as 21 inches of snow that has fallen over the past couple days, we couldn't help but think that there has to be a better way. So while you bundle up to face subzero wind chills and another round of shoveling, you might want to think about how the other half lives, enjoying the tranquil beauty of snow gently blanketing the landscape while their walkway and driveway snow melting systems do all the work.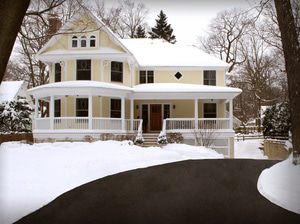 Just in case arctic temperatures, backbreaking work and 36 hours of continuous snowfall aren't enough to grab your attention, here are the top ten reasons you should install a snow melting system:
10. You can't get from your house to the detached garage to access your snow shovel and snow blower.
9. Your snowblower is out of gas, and you recently had a falling out with your next door neighbor who just purchased the latest model super-charged, high-power, multi-function snowblower.
8. You object to the concept of shoveling purely on principle. It's a tedious and unproductive waste of your time. As soon as you finish, you just have to go out and do it all over again.
7. The dog won't go out because the snow is up to his belly.
6. The cat went out sometime yesterday but hasn't been seen since.
5. A snow melting system is cheaper--and less painful--than the medical bills you'll get when you throw out your back.
4. You have a compelling urge to walk outside barefoot to get your morning newspaper—even in January.
3. Not a big fan of frostbite.
2. Salt is bad for the concrete, your pets' paws, the lawn and landscaping. Besides, your doctor advised you to cut back on salt.
1. Sitting back in your recliner with a cup of hot cocoa watching your neighbor with a snowblower as big as his ego run out of gas—priceless.
Whatever your reason, a snow melting system for your walkways or driveway can make any snowfall event, big or small, hassle-free. You can spend less time worrying about digging out and more time with friends and family doing things you enjoy.
Check out WarmlyYours.com to learn what snow melting options best fit your needs.
---