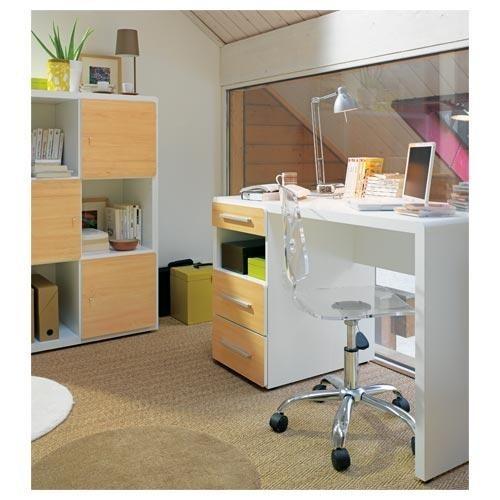 If you have the option to telecommute at your current job and you want to take advantage of a spare room in your home, you might want to convert it into an office. However, there is more to designing a functional home office than just bringing in a desk and computer. In order to make sure you're productive in the space, you will need to put a bit of thought into how you arrange your furnishings to make the room comfortable and welcoming.
One way to instantly improve the comfort in a home office is to buy a new computer chair. Don't be cheap when it comes to purchasing seating. Because this is an area where you will be spending hours at a time working, you'll want to be comfortable. Finding a supportive, soft chair can also prevent negative health consequences associated with poor posture in the future.
Next, think about purchasing an Under Desk Heater for your office to make sure you're comfortable in the room throughout the year. The Under Desk Heater from WarmlyYours can be used to fit discreetly in small places, such as under a desk or chair. The product is energy-efficient, can be plugged directly into an electrical socket and can be easily turned on or off when you need it.
Once you have found a way to keep your feet and legs warm as you work, you can shop for additional furnishings that you may want to bring into the office. One thing you might want to consider is your walls. If you don't have any art or portraits that you enjoy, the room can quickly become dull. Bringing art into your office can give it your personal touch.
To make the space feel more inviting, layer the lighting. Don't just opt for a desk lamp - have one or two additional sources of light to create a sense of warmth. It's also beneficial to have an ample amount of illumination if you plan on using the office often after dark - this will help you concentrate on your work.
It might seem difficult to put together an office space that is both functional and appealing, but doing a little planning beforehand can make sure you're happy with the final design.
Like this post? Subscribe for regular updates
Make sure you don't miss out on the latest news in radiant heating by subscribing to our blog. We'll send you an email with links to the newest posts from WarmlyYours.
We won't share your information and you can unsubscribe at any time with a single click.
---
Did you find this post helpful?
Let us know by giving it some applause.
---
---