The turn in the weather is oh so close. It's that time of year when the sun can tantalize you with its warmth — luring you into cheery outdoor spaces with bright blossoms — yet be gone the next day, replaced with a winter-like chill that drives you back indoors for a time. Take the roller coaster out of the season and enjoy the beauty of spring with some wisely planned indoor/outdoor heating to keep your feet comfortable until warm weather officially settles in.
1. Start from the Ground up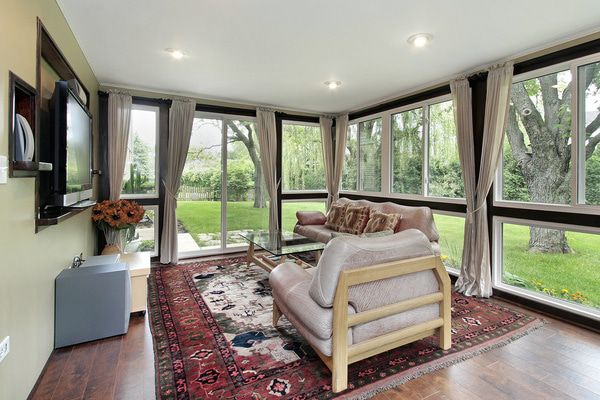 When you add electric floor-heating systems from WarmlyYours Radiant Heating to your indoor/outdoor spaces, you'll even out the temperature by removing cold from the ground up.
Multi-seasonal indoor rooms — like sunrooms — typically include concrete, tile or wood floors flowing out from the main house, but these are naturally cool — especially during the early spring months. Stop the yo-yo in comfort between warm and cool weather by including WarmlyYours' concrete heating cables and mats to help turn the naturally cooler cement slabs into warm, inviting floors.
Once you lay the foundation with electric floor-heating systems, the additional thoughtful touches below will keep your space warm and cozy until summer arrives.
2. Add Layers
When you add an extra rug (or rugs) to your sunroom, it will create a layered defense against cold, add visual warmth and coziness, and serve as a strong design element.
Rugs add warmth, define the space, visually anchor furniture, and let you add color and patterns to your room, says Debra Justice, owner of Justice Interiors Inc. in Simpsonville, S.C., in the azcentral.com article "Rugs Add Color, Warmth to Room."

"I like to look at them as little pieces of artwork for your floor, so they are absolutely essential," she states. "They also act as sound absorbers and add warmth to the room."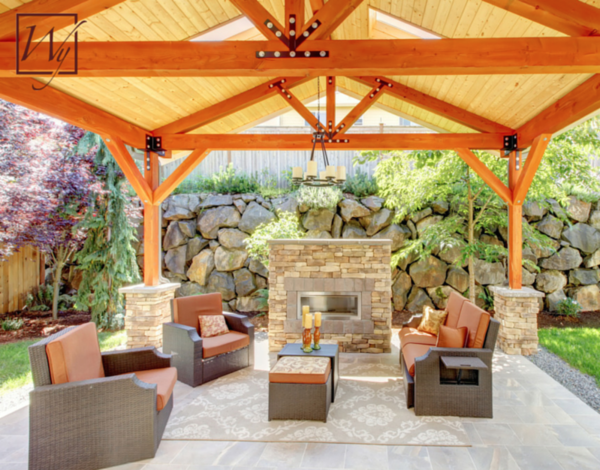 3. Use Cushions as Barriers
You should want to sit down and snuggle into the chairs, benches and other seating options in your outdoor patio, but if they are just the raw materials, it can be hard to get past the cold shock you know is coming when you first make contact. Adding cushions to patio furniture is the perfect barrier against the cold — adding softness, comfort, and a quick and easy design "pop" as well. Win, win, win.
"Cushions added to wicker, rattan or wrought-iron patio furniture bring a splash of color and comfort to your outdoor living space. Large cushions plunked on benches or set directly on the floor of a wooden deck offer additional seating in a pinch," reminds Michelle Radcliff in the sfgate.com article, "How to Decorate an Outdoor Room With Pillows and Cushions."
She suggests continuing a color scheme already used indoors to help create flow between spaces or mirroring the vibrant colors you see in the flowering plants in your garden.
"Go bold with colored accent pillows in outdoor rooms in intense purples, sunny yellows or crisp corals," she advises. "If you need a little inspiration for choosing colors, look to Mother Nature. Browse through your local nursery or gardening center to find flowers in the colors that appeal to you. Add these flowers to your garden and scatter pillows to match in your outdoor room."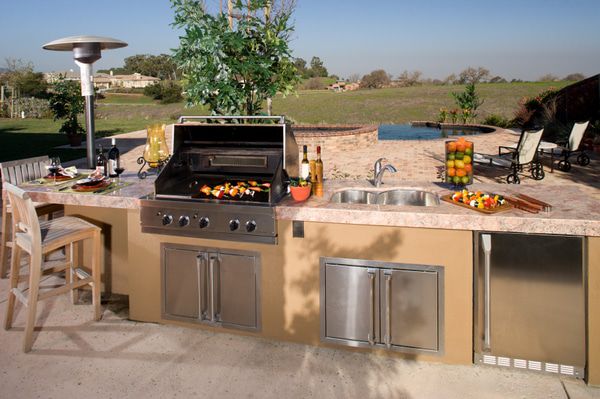 4. 'Take the Edge Off' Counters
If sitting on a cold seat is unpleasant, putting your elbows or hands against a cold counter isn't much better. So, if your outdoor space has countertops for cooking and grilling, "take the edge off" in cooler months by adding WarmlyYours FeelsWarm®* Countertop Heaters. These adhesive-backed heating elements are less than .025 inches thick and adhere to the underside of the countertop. It is a discreet, simple way to get rid of the unpleasant cold shock of granite and stone during cooler weather. Learn more in our previous blog, "The 1, 2 Counter Punch: Functionality & Warmth."
WarmlyYours added the popular radiant heating accessory in February 2014.
5. Add Warmth AND Style
There are many ways to add warmth and comfort to indoor/outdoor spaces, allowing you to enjoy the beauty of spring in comfort. And they allow you to upgrade the design and appeal of the space as well! In this previous WarmlyYours blog, we reviewed several great compilations of ideas for upgrading outdoor spaces into the best "room" in the house and shared the "Top 5" tips that caught our eye. We included the sources where we found them to make it easy for you to explore additional ideas. Just click on the headings and bold, gold text to find inspiration for creating the perfect outdoor space just for you!
When you're done, share how you created comfort in your outdoor space using WarmlyYours' electric floor-heating systems and FeelsWarm®* Countertop Heaters! Please share your story, send us photos on the WarmlyYours Facebook page, or tweet us at @WarmlyYours.
Sources:
http://archive.azcentral.com/style/hfe/decor/articles/2009/01/31/20090131rugs0131.html#ixzz3WH8MBq3R
http://homeguides.sfgate.com/decorate-outdoor-room-pillows-cushions-79981.html
*FeelsWarm® technology is a registered trademark of Heated Stone Products, patent pending.