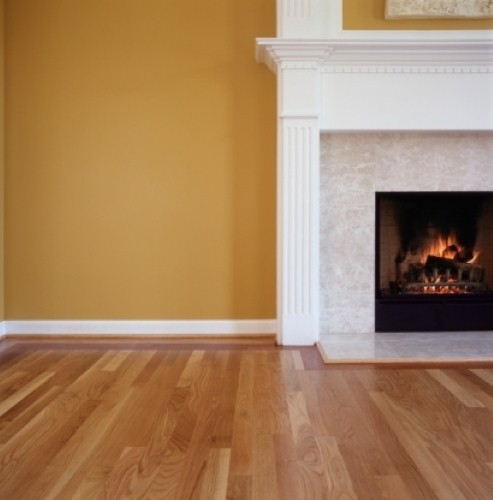 As the crisp and blustery weather of early fall makes way for the first real frosts and early snow flurries of mid-November, you'll want to make some changes around the house - and probably spend a lot more evenings on the couch. Cold weather may keep you from evening strolls, but it doesn't mean you can't have a blast staying in. Two of the greatest winter activities after all are enjoying a flickering fire and settling in with a fantastic film. If you're looking forward to either of these fun options, why not do a little redecorating and renovating around your living room? Want the ultimate fireside home theater? Consider this checklist of essentials.
Radiant floor heating
Fires are great for ambient effect, but unfortunately they're not enough to keep you warm all on their own. This is where radiant floor heating comes in. No matter where you are in your home, radiant heat is an excellent heating option. Energy-efficient and green, it's sure to shrink your utility bill while also preserving resources and improving your home's energy rating. Radiant floor heating also uses convection currents to keep you and your family warm, which makes for vastly improved air quality over central heat's forced hot air systems.
LED HDTV
Speaking of energy efficiency, light emitting diodes (LEDs) are among the greenest of all energy (and lighting) sources. While they make for great bulb options, they're also featured as back lighting in many modern TVs. So if you want a gorgeous and good looking HDTV, go with the LED variety. It's sure to make the ideal addition to your home theater.
Surround sound system
A home theater's nothing without an astounding surround sound system to match. Give your space what it deserves and invest in a quality 5.1 model. This means that you've got five speakers and one subwoofer to place around the room as you see fit, giving you a 360-degree auditory experience.
Wood-burning or gas?
Of course, not all living rooms are equipped with fireplaces already. If this winter is the one where you make the leap and have a stylish new fireplace installed in your home, you'll want to make the choice between wood-burning or gas. Both have advantages, but from a strictly decor-related perspective, whether you go for modern or traditional style may have the biggest effect on your choice. Wood-burning fireplaces have a rustic charm, while a gas fireplace - especially raised - is stylishly simple and much cleaner.
---