Lake Zurich, Ill., Nov. 8, 2018 ⎯ According to a recent industry report, radiant floor heating has grown in popularity in the third quarter of 2018 for several flooring types including tile, wood, and vinyl.
WarmlyYours, a radiant heating company that specializes in electric floor heating systems, released their "Q3 2018 Industry Report " earlier this week. One of the most significant findings from the report was that while tile remains the most popular flooring type for pairing with radiant heating, both wood and vinyl floors have show significant growth in popularity with end users. The data for this report is drawn from thousands of third quarter quotes from the WarmlyYours Radiant Floor Heating Quote Builder, an online tool which received a significant upgrade in Q3 2018. This tool is used by every customer segment for WarmlyYours, from curious homeowners to seasoned installation professionals, so Julia Billen, owner and president of WarmlyYours, believes that assessing and curating the data generated is crucial for staying on top of developing trends. 

"Everyone knows that staying up-to-date with the changes in your industry is a good business practice. The challenge is sometimes how to actually do it," said Billen. "But for us, it's an absolute necessity. Our success depends on customer service and that means we have to be aware of what our customers need."
According to the report, tile remains the most popular flooring material for use with radiant heating. So far in 2018, tile floor heating projects have made up 87.9% of all WarmlyYours floor heating sales. In the third quarter of this year, tile floors grew 5% from the previous year. In the same time period, the average order size in dollar value for tile floors grew 6.9%. The most popular product for heated tile floors continues to be the TempZone Flex Roll (57%) while the TempZone Floor Heating Cable continues to grow (10%). 
While wood and vinyl floors might not be the first thing that people associate with electric floor heating, they have been growing in popularity for the last few years. Since the third quarter of 2016, vinyl floors, particularly floors using Luxury Vinyl Tile (LVT), have grown at a steady pace and have made up 2.1% of all floor heating sales so far in 2018. In the third quarter of this year, vinyl floors were up 12% compared to Q3 2017 and up 11.2% in year-to-date sales.
Similarly, wood flooring has experienced a solid upswell in consumer interest. In Q3 2018, invoiced orders for wood floor heating projects are up 59.1% and in year-to-date sales, these sales have increased 27.4%. Part of this is do to proactive steps that WarmlyYours has taken to reach out the wood flooring industry, such as Julia Billen joining the Radiant Heating Task Force for the National Wood Flooring Association. According to Billen, it's important for members of the radiant heating and wood flooring industries to work together to help address common misconceptions the general public might have.
"There's a lot of misinformation out there that is holding back consumers from combining floor heating with wood flooring," said Billen. "When we work together sharing data on products and experiments, we're not just helping ourselves—we're helping the consumer."  
In addition to WarmlyYours sales and quote data, the report also analyzed web traffic to the WarmlyYours website via Google Analytics and found that traffic relating to "tile", "wood", and "vinyl" queries were all up 35.1%, 18.2%, and 35% respectively.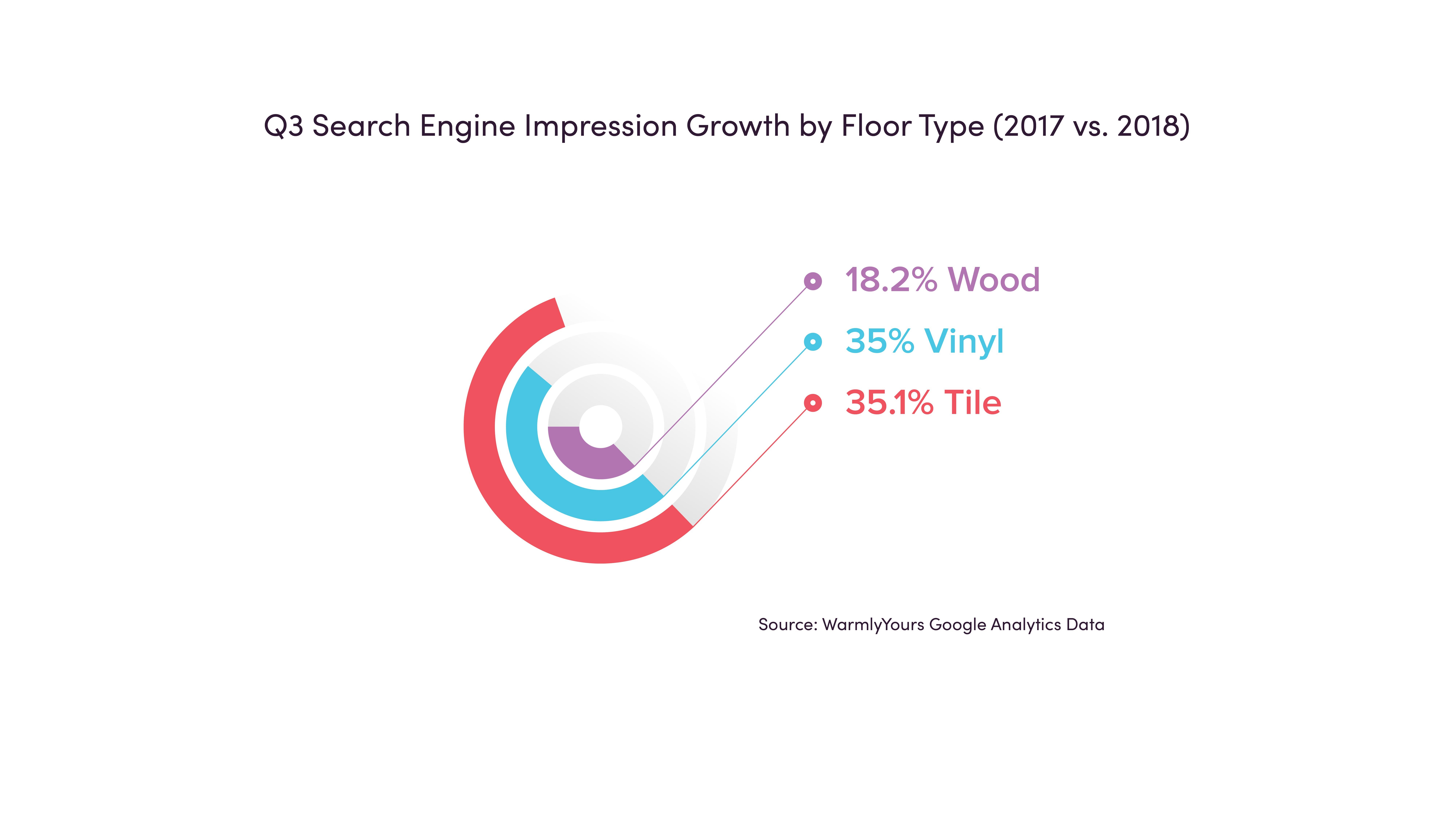 ###

Hi-res images are available upon request.
About WarmlyYours Radiant Heating:
For nearly 20 years, WarmlyYours Radiant Heating has offered the industry's most innovative solutions in radiant heating technology, from our flagship floor- heating systems and radiant wall panels to snow-melting systems, as well as comfort products, including towel warmers, mirror defoggers, shower floor and bench heating, and countertop heaters. With locations in the United States and Canada, WarmlyYours provides unrivaled personalized customer support from start to finish, featuring measuring and design services, 24/7 technical support, and our No Nonsense™ Warranty. For more information, visit www.WarmlyYours.com.
Media Contact:
Cameron Witbeck
Marketing Communications Manager 
WarmlyYours Radiant Heating
P: 847-550-2478 ext. 878 
cwitbeck@warmlyyours.com
---
Tell us About your Project
Our team of Radiant Experts is ready to help! Just tell us a little about yourself and your project to get started.
---
Did you find this post helpful?
Let us know by giving it some applause.
---
---