Electric Floor Heating
Electric In-Floor Heating Systems generate an even heat throughout your home and will not disturb dust – reducing the chance of possible allergic reactions. What's more, heated floors reduce noise levels and the amount of dry air in your home.
Our Floor Warming Systems are easy to install, affordable, and don't cost anything to maintain, making them a popular choice over water-based, or hydronic, counterparts. They are in-floor systems available for a variety of floor surfaces.
---
Find the ideal solution to warm tile or stone floors with electric in-floor heating. Combine the beauty of tile and stone with the luxury of barefoot radiant comfort.
Tile & Stone Heating →
Heating beneath carpet provides added warmth under your feet. Floor warming systems heat a large, cold family room or bedroom with optimal temperature comfort.
Carpet Heating →
Concrete heat adds function to beautifully polished and decorative concrete floors. Perfect for large lower-level rooms or basements that are almost uninhabitable during winter months.
Concrete Heating →
Install in-floor heating under hardwood, and complement the strength and enrich the luxury of hardwood flooring, without harmful temperature fluctuation.
Hardwood Heating →
Floating wood floors maintain a cold surface to the touch, just as other wood floor coverings. With electric floor warming systems, the surface and room can be heated to an ideal temperature.
Floating Floor Heating →
---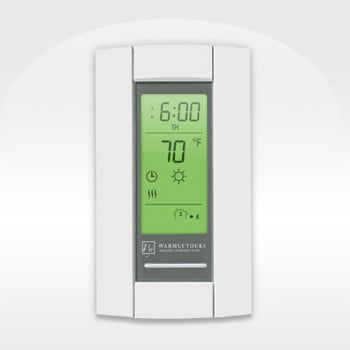 Choose from our selection of 5 system controls and thermostats each with its own unique set of features. Ranging from the basic on/off timer to the inteligent and highly customizable SmartStat™
Controls →
Choose from between regular cork and our new CeraZorb® underlayment sheets to improve the efficiency of your electric floor heating system.
Underlayment →
Additional lengths of lead wire and replacement floor sensors, splice kits and our Circuit Check™ are available in our accessories section.
Accessories →
---