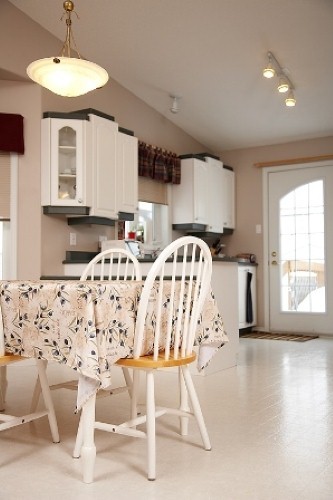 What room could be more essential to an eco-friendly individual than the kitchen, where we create the most waste and have the opportunity to do the most good for Mother Nature? Food is the oldest and most universal of pleasures, and cooking needn't suffer for the sake of the environment - rather, green kitchens can improve food preparation and save the cook more than a little on electric bills.
Whether you're a foodie looking to get a little more green and improve the taste of your dishes with locally sourced food, or you're a homegrown environmental activist looking to wring every energy-efficient drop out of a room and shrink your carbon footprint's size to the head of a pin, there are plenty of advantages in making your kitchen eco-friendly. Consider some of these tips to help you along the way to your goals.
1. Equip yourself with energy-efficient appliances. Many of us know the joys of a dishwasher that doesn't roar its way through water-wasting and electricity-guzzling cycles, but there are plenty of other home appliances in need of energy efficiency upgrades. From Energy Star certified fridges to electric mixers that minimize their electric intake - appliances of all sizes can be bought to minimize wasted power. Occasionally, this includes the parts of our kitchen we don't even see.
2. Look into radiant heat. Radiant heating systems are an eco-friendly way to keep your house comfortable during a late-summer cold spell or a deep-winter freeze. Radiant floor heating is especially useful for the kitchen, where you can have it installed comfortably under any flooring type, from tile to hardwood. Instead of relying on hot air from ducts flushing in dust, use a modern, efficient and green form of heating.
3. Cut down on paper and plastic usage. Invest in a hefty stack of cloth hand towels for the kitchen and keep paper towel use at a minimum. Also, avoid buying products in plastic containers (juice, milk, fruit) when other options like glass or cardboard are available.
4. Source your food locally.  This can be the most difficult part of keeping a green kitchen - after all, grocery stores are already a chore, why make them less convenient? But with a little research, you can find great local produce options, some of which may even save you money. And the one assurance is that whatever dish you make with fresh food is going to taste fantastic.
Like this post? Subscribe for regular updates
Make sure you don't miss out on the latest news in radiant heating by subscribing to our blog. We'll send you an email with links to the newest posts from WarmlyYours.
We won't share your information and you can unsubscribe at any time with a single click.
---
Did you find this post helpful?
Let us know by giving it some applause.
---
---