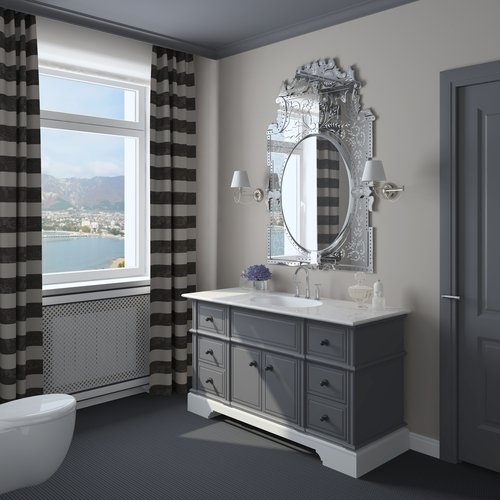 Homeowners are increasingly using furnishings and amenities to turn their bathrooms into spa-like settings or extended areas for dressing. But it's the addition of a sophisticated window treatment that addresses two goals at once - the need for privacy and a retreat that's both comfortable and stylish.
For those who want to install one of the most versatile of classic window covers - customized drapes - they should know the rules of hanging them to their best advantage wherever they place them in the home.
Don't Overdo
Just as window treatments can make a small window look larger, decorators caution consumers against using too much drapery, and accompanying pieces such as valances, cornices or swags. Not only can a small room become overwhelmed by an elaborate window covering, but the same can be true when a large room has several windows.
"If overdone, your drapery solution can easily become the drama queen of the room," interior designer Cindy Lee Bergersen wrote in Hamptons magazine. "Classic and understated are good adjectives to fly with."
At the same time, one of the great advantages of using custom drapery for window coverings is the wide selection available in fabrics, colors and patterns to complement a homeowner's current home design or to help devise a new look altogether.
Consider Bathroom's Unique Needs
For the bath, consumers need to be particularly mindful of the moist conditions that exist there and can affect soft furnishings. Bath rugs and window covers should be chosen for their water-resistant properties as much as their looks.
Window treatments in bathrooms should be lined if they are see-through or translucent. If the room is particularly dark, Bergersen said there's an old trick that home decorators can borrow from set designers: A cream-colored fabric for the outer curtain and a yellow fabric as lining makes the incoming light look more "sunny."
If creating a spa look is important to homeowners, they may consider installing electric radiant heat in the floors or adding towel warmers. Having the comfort of warm floors to step on instead of cold tile or reaching for warm towels right out of the shower are two conveniences that make the bathroom seem more luxurious.
Illusions of Space
Hung correctly, a room that includes small windows and low ceilings can benefit from drapes. To make a window look larger, brackets for drapes should be placed three to six inches outside the frame.
The curtain rod should be extended further in proportion to the wall size. As an example, a window frame that's sandwiched by a small sliver of wall and the room corner should be covered with a rod that extends along the wall to the corner, with a simple end cap instead of a finial.
When a curtain rod is placed at the ceiling line, it makes a room look taller by increasing the vertical line of the room. To create a focal point in a bedroom, drapes can be used behind a bed to coordinate with drapery on windows.
Complementary Covers
Bathrooms often have oddly-shaped or small windows that require different treatments. According to SAS Interiors in Saratoga Springs, N.Y.,  the same fabric or complementary patterns and solids can be used to dress the largest window with drapery panels while the smaller ones may look better with a simple, but elegant covering like roman shades. Or, a woven wood shade may be substituted for a cloth cover on a smaller window.
"Great window dressing can take a room from generic to gorgeous, without further ado," Bergersen stated. "It's the fast track to supporting a pulled together look."
---
Tell us About your Project
Our team of Radiant Experts is ready to help! Just tell us a little about yourself and your project to get started.
---
Did you find this post helpful?
Let us know by giving it some applause.
---
---