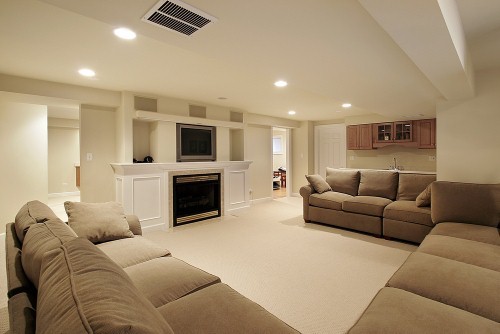 Have you recently begun renovating your basement to be the entertainment and lounging area you've always dreamed of owning? One of the many joys of being a homeowner is designing spaces that feel uniquely your own, and the basement is no exception. While it may not get the lighting that your kitchen or bedroom does, there's no reason you can't maximize on its many best qualities! Open space, cozy décor and that giant television just waiting to play your favorite movie - your basement can have it all.
So there's no better time to begin planning it than now. As you're crafting the designer basement of your dreams, consider these five steps for planning the kind of space you want and what you hope to do in it.
1. Consider theme and style
Rustic or modern, craftsman or shabby chic, IKEA sensible or lavishly eccentric? All these and more are your options for theme and style - and since the basement is a floor of your home unto itself, its design doesn't need to mesh with the rest of the house! But while you're laying out the specifics of your basement's motifs and trend, why not consider including radiant heat? Radiant floor heating will ensure that whatever your chosen theme, your basement will never lack for coziness. Better yet, radiant heat systems are green and energy-efficient while also preserving your air quality - twice as important in a basement with limited ventilation. You won't find a better way to save money on your utility bills while keeping warm all winter long thanks to natural convection currents.
2. Your own personal theater
While hitting up your local cineplex is always a joy, owning a home theater system will surely change the way your watch movies and television. Setting one up is a breeze nowaday with tiny 5.1 surround sound speakers. Pick up a giant LED HDTV with a Blu-ray player for perfect 1080p quality picture and true high definition sound. Whether you're lounging with the whole family or catching up with your favorite sports team, it's sure to be unlike any television experience you've ever had.
3. A stylish wet bar for entertaining
If you're having guests over for drinks and want to play a round of pool or two - or maybe throw on a movie or hook up your Nintendo Wii - a wet bar could be a stylish way to serve a cocktail and beer or two. Putting together your wet bar's look will be just as exciting as designing the rest of your finished basement. Should you model it after a favorite Irish pub? Perhaps you want to go for a sleek and modern nightclub look.
4. A secluded work space
Don't reserve your basement specifically for fun and entertainment - if you've always wanted an arts and craft's studio or writer's nook, this may be the perfect spot for it! Write that novel or screenplay that you've been mulling over for years, or start an Etsy account and begin selling your personally designed and handcrafted jewelry over the internet! No matter your passion, reserving a corner of the basement for your personal pursuits is a fantastic idea.
5. Storage
The single dilemma with a finished basement is having to find new storage space. One way to deal with this, is to incorporate a certain amount of storage into your finished basement's layout. Include closets for boxes and seasonal items, but also equip your space with extensive shelving. Whether you're keeping books, movies or photos and souvenirs on these shelves, they're sure to keep clutter to a minimum.