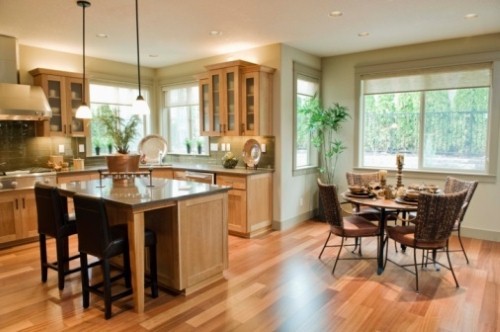 Hardwood floors are renowned in the home design industry for their timeless appeal, impressive lifespan and sustainable benefits, and they are especially striking in a kitchen. As you get your remodeling project underway, there are a few advanced preparations you should keep in mind to extend the lifetime of your flooring investment and help make your space more energy-efficient in the process. This will ultimately put money back into your pocket and give you the peace of mind that you got your flooring choice right the first time around.
1. Radiant floor heating. If you're looking to improve the energy-efficiency of your home as well as create a comfortable atmosphere in your kitchen, radiant heat may be the perfect solution. This heating system can be placed directly underneath your floorboards and will release heat evenly without leaving any cold spots in the room. This can make a huge difference in your monthly utility bills and is ideal for heating large rooms like kitchens.
2. Strategically-placed area rugs. As long-lasting as hardwood floors are, they are still prone to scuffs and scratches, as well as damage from moisture. Placing a series of area rugs around your kitchen in front of potentially risky areas could be a great way to extend their lifespan. Consider placing a rug in front of your sink, stove and anywhere else there is enhanced traffic flow. This will protect your floors from the occasional spill and give your kitchen an additional pop of color.
3. Sweep regularly. One of the chief causes of dings and scratches on hardwood floors arises from small pebbles, sand and other material that can be tracked in by shoes. Make an effort to sweep your floors each day to keep your floors clear of these potentially damaging objects. Mopping is also acceptable, but always use a cleaner that is designed for hardwood floors to cover up any imperfections and maintain the overall luster of your floor coverings.
When you're in the midst of any home remodeling project, it's vital that you make the most of your investment. Whether it's investing in an energy-efficient home design feature like radiant floor heating or taking the steps to protect the surface of your floors, these small steps will add up to cost savings down the road and can improve your kitchen's versatility.
Like this post? Subscribe for regular updates
Make sure you don't miss out on the latest news in radiant heating by subscribing to our blog. We'll send you an email with links to the newest posts from WarmlyYours.
We won't share your information and you can unsubscribe at any time with a single click.
---
Did you find this post helpful?
Let us know by giving it some applause.
---
---