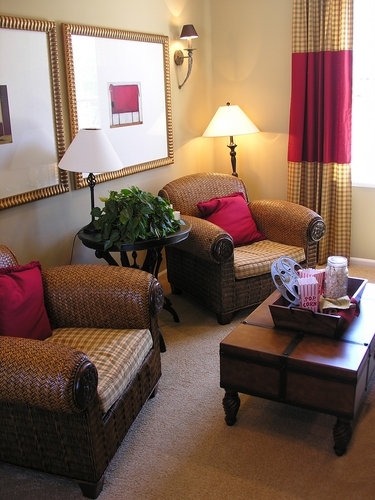 The average family's activities have changed so much in recent years that certain rooms are left untouched for long periods. The living and dining rooms are often too formal for daily use. But room makeovers can turn these rooms into places that are as welcoming to family time as they are to visitors.
Introducing brighter colors is one way to achieve this without giving up the sophistication that many homeowners want in their entertaining spaces. Other ways to make a living room less formal is to change its color proportions and set up furniture in a more casual arrangement.
Create Proportions
If colors are kept in proportions that are nearly equal between walls, draperies and upholstery, there's less chance that one color will dominate the color scheme. In addition, accessories in bright colors can be used to accent walls and furniture. Or, a darker color may be chosen for an area rug to anchor the room without overpowering other elements.
As one of those elements, a large living room window can be turned into a focal point with the use of custom drapery that adds color in a wide variety of solids or prints.
A bonus of custom drapery is that it provides insulation against heat in summer and cold air in winter, and saves on the homeowner's energy bills. Another energy-efficient move is the installation of radiant floor heating, which warms up a room without the need for air ducts. Floor warming systems provide uniform heat with the flick of an electric switch.
Add Versatility
Whether they're used as coffee or sofa tables, one of the most versatile items in living rooms are small tables. Both decorative and practical, they can be placed in front of a couch or between seating to create separate conversation areas.
According to Real Simple magazine, the many choices in small table styles range from contemporary glass-topped versions to hardwood that matches wood furniture. Those that come with drawers or a shelf beneath the top surface provide storage. A beveled mirror placed on the table top will fit a room decorated in Art Deco style and a traditional Parsons table goes well with rustic decor.
Slipcovers give homeowners a chance to change the look of a room according to seasons or allow  their upholstered furniture a rest from continuous use. It's one of the easiest makeovers available in a room where many furnishings are among the homeowners' most valuable.
Like this post? Subscribe for regular updates
Make sure you don't miss out on the latest news in radiant heating by subscribing to our blog. We'll send you an email with links to the newest posts from WarmlyYours.
We won't share your information and you can unsubscribe at any time with a single click.
---
Did you find this post helpful?
Let us know by giving it some applause.
---
---