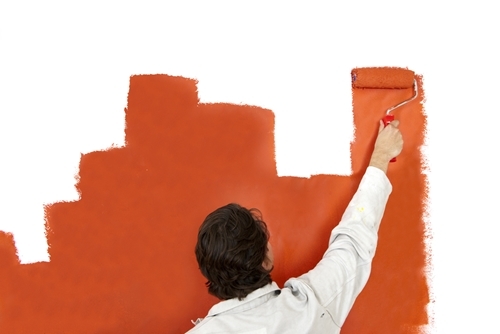 Homeowners should have a color scheme in mind before they ever take a paint brush in hand. But it shouldn't be a rigid plan. Keeping things flexible allows changes to be introduced along the way.
Rejuvenating a room with color may be done in a variety of ways. Different hues can be introduced that will make a small room like a bathroom appear larger or a big room seem more cozy. Painting either walls or furnishings can create an interesting focal point in a room design.
Once the painting is done, homeowners will be able to furnish and accessorize more easily because the colors they've chosen will guide them. New linens and heated towel racks will accentuate the rejuvenated look of a newly-painted bathroom, not to mention the comfort of having warm towels ready after a bath or shower.
A New Look for Furnishings
Unless a piece of furniture is a true antique and difficult to replace, virtually any hard surface can be refreshed with a coat of paint that sets the tone for a decorating project, according to HomesGardenDesign.com.
Built-ins like vanities and shelves also deserve a new look. The inside of a cabinet may be painted in a shade that contrasts with the exterior color of the piece. Light-colored collectibles look better against a darker hue and painting a bold color on the wall behind open shelving will create that kind of display.
Resizing a Room
With the right color, homeowners can create the illusion of space. Light colors give a space an expansive look that makes them appear larger while darker hues create a cozy atmosphere for rooms that would look cold and uninviting in light neutrals.
Another way to add architectural interest is to use stripes in an otherwise solid-colored room. A stripe of painted color can break up a large, undistinguished space by mimicking the look of molding. For a less formal style, painting vertical stripes on a secondary wall or room divider adds a whimsical touch.
A focal point
To give a room an unexpected twist, homeowners might consider painting a functional item like a pegboard in a bright color to make it the focal point of a room.
Creating one colorful feature against neutral tones on the walls is one way to draw attention to a specific area. A bright red island, for example, warms up a kitchen that has dark wood cabinets and stainless steel appliances.