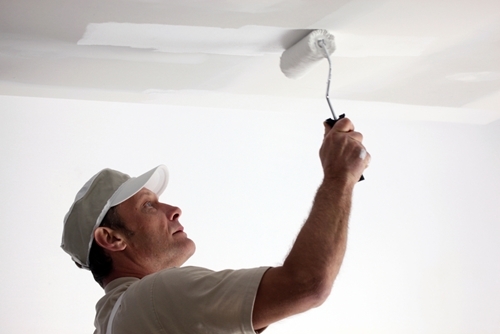 If you're planning a home improvement project this year, you're not alone. Harvard University's Joint Center for Housing Studies predicts spending on various projects will increase by more than 20 percent this year to $151 billion.
"Existing home sales were up almost 9 percent last year, and house prices are increasing in most markets across the country," said JCHS managing Eric Belsky, managing director of the Joint Center.  "This has increased the home equity levels for most homeowners, encouraging them to reinvest in their homes."
Government data
Recent data released by the U.S. Census Bureau also indicates that more Americans are spending money on improving their homes, rather than moving to a new one.
The data, which was taken from the 2011 American Housing Survey, specifies what types of projects homeowners are embarking on and how much they're spending.
According to the findings, 57 percent of U.S. homeowners made improvements to their homes between 2009 and 2011. The average expenditure was $3,200 and the most common types of projects included purchasing appliances and other major equipment, such as radiant heating systems, replacing flooring, paneling and ceilings and installing new windows and doors. In fact, nearly a quarter of individuals who invested in their homes made improvements that would increase their energy efficiency.
Costs
The AHS found that 63 percent of home improvement projects are done by professionals and the average cost varied by room.
Kitchen renovations were the most costly, in general. Individuals who remodeled their kitchens spent an average of $5,000. Installing a new HVAC system came in as the second most expensive improvement, averaging about $3,600.
Furthermore, homeowners spent an average of $3,000 each on converting a basement into a family or recreation room. And, bathroom and bedroom renovations cost about $2,500 nationwide.
Value
Many people perform improvement projects to more thoroughly enjoy their homes. However, some make changes in order to increase the market value of their homes.
According to Remodeling magazine's 2013 Cost versus Value Report, individuals can expect to recoup varying amounts of their investment on home improvement projects.
Nationwide, some of the projects that offer homeowners the best return on their investment include replacing the front door, adding a wood deck, installing a new garage door and performing a minor kitchen remodel. However, real estate experts advise individuals who are considering a project to check the figures for their specific region to estimate how much they can expect to recoup if they were to sell their home upon the project's completion.
Like this post? Subscribe for regular updates
Make sure you don't miss out on the latest news in radiant heating by subscribing to our blog. We'll send you an email with links to the newest posts from WarmlyYours.
We won't share your information and you can unsubscribe at any time with a single click.
---
Did you find this post helpful?
Let us know by giving it some applause.
---
---