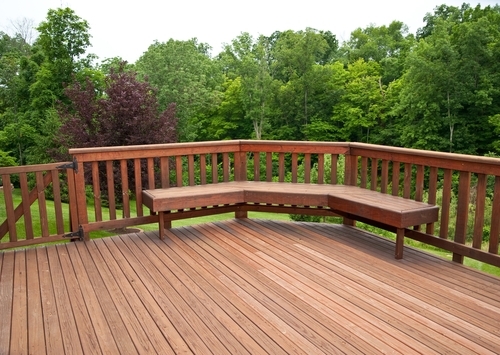 Fences and walls serve a practical purpose, but that doesn't mean they have to be boring. One innovative homeowner inserted an all-weather chalkboard panel into a solid fence featured on HouseLogic.com that ensured many hours of enjoyment for the younger set.
Outdoor barriers like these create privacy that are attractive for both homeowners and the people who live next door to them. A variety of fencing styles and products available to spruce up a plain wall makes this possible and helps homeowners to see fencing and other partitions as part of their backyard design scheme.
For instance, a fence can be dressed up by creating a border garden of plants that are fast-growing and can cling to the fence as trailing vines. Morning glories are a good example of annual plants in this category.
These are just some of the improvements that have made outdoor living spaces so popular with homeowners in recent years. For those who live in colder regions, the convenience of radiant heating may be installed with many of the building materials that are available for outdoor paths. Outdoor heating for walkways is a boon to homeowners who don't want the bother of shoveling snow and ice in winter. The system can be tied into driveway heating as well.
Practical Built-ins
Nothing looks made-to-order more than built-ins. Outdoors, they take the form of benches, planters and shelving. Most commonly, they are constructed along backyard perimeters such as railings, walls and partitions.
To make the most of the space on a patio or deck, built-ins can be designed to serve more than one use. A deck box, for instance, can be attached to a railing. Its primary purpose is to store outdoor items, but with a cushion on top, it becomes extra seating. Benches may also be wrapped around tree trunks or built into a nook within a large patio.
Better Homes and Gardens Magazine featured two benches built perpendicular to each other against two trellis walls that form one corner of a patio. The nook was finished with light sconces, planters, a small table and two patio chairs for a cozy conversational area.
In another example, a concrete and brick wall that lines a lawn may continue around the patio in a double layer that adds appropriate height for seating. Homeowners can pull up a table to the wall, add chairs on the other sides and provide seats for several people.
---