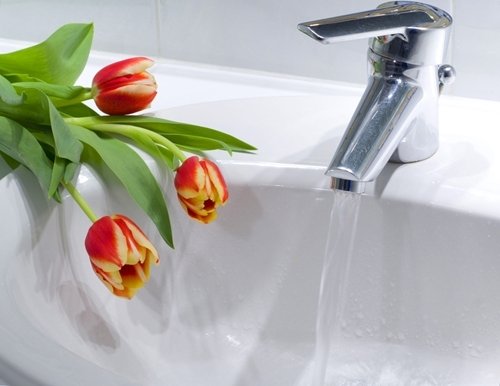 While overall home improvement spending is expected to increase this year, a new survey reveals homeowners are focusing their efforts and their money on kitchens and bathrooms. The quarterly study conducted by the American Institute of Architects found that Americans want to increase the size and the number of both rooms in their homes.
Kitchen features
AIA's Home Design Trend Survey revealed that many homeowners want bigger kitchens when embarking on a remodeling project.
"Kitchens have reclaimed their place as the true focal point of the home, with a growing emphasis on utilizing more technology," said AIA chief economist Kermit Baker. "There has also been renewed interest in integrating more household activities into this space."
While many people install items aimed at increasing the comfort and efficiency of their kitchens by adding features such as electric radiant heating, large islands and energy-efficient appliances, the AIA survey found other things are important as well.
Nearly half (47 percent) of those surveyed said their kitchen renovation should include a computer area and/or charging station. Forty-three percent wanted their kitchens to be integrated into their family space, 36 percent wanted a recycling center and 35 percent wanted a space that would ensure they could stay in their homes as they age, known as universal design.
Bathroom features
The accessibility and safety afforded through universal design elements were also found to be important in bathrooms.
"Along with a continued need for accessibility within bathrooms, the majority of products that are extremely popular promote energy-efficiency and sustainability, such as LED lighting and water saving toilets," said Baker.
Doorless showers, which are popular for their esthetics as well as their accessibility, were in-demand by more than half of those surveyed.
Homeowners are also interested in luxury and comfort when it comes to a bathroom renovation project. One-third wanted to incorporate warm floors into their bathrooms by installing radiant heat. Additionally, 21 percent said they wanted to include a specialty upscale shower in their bathroom plans.
Is it worth it?
Kitchens and bathrooms are traditionally in-demand when it comes to renovation projects. Not only are both of these rooms used often by those who live in the homes as well as their guests, updating them can add to the overall value of the home.
Remodeling Magazine's annual Cost versus Value report estimates that homeowners who complete a minor kitchen remodel can expect a 75 percent return on their investment, while those who do a major kitchen renovation can expect to recoup 68 percent of the cost of the project.
Bathroom remodels are also cost-effective, according to the report. American homeowners can expect about a 65 percent ROI for a midrange bathroom remodel.
---
Tell us About your Project
Our team of Radiant Experts is ready to help! Just tell us a little about yourself and your project to get started.
---
Did you find this post helpful?
Let us know by giving it some applause.
---
---