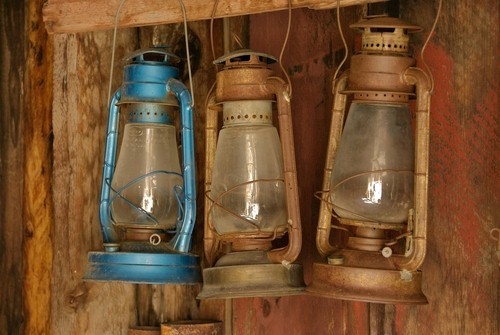 City living can get a little claustrophobic. Sure your spaces are going to be smaller - anyone who's ever made their way through a Manhattan grocery aisle knows this - but the lack of natural or rustic accents can start to feel oppressive. Tired of steel, plastic and granite? Why not bring a little woodsy charm to your city apartment? But don't makeover your home like a cabin. Rather adopt a rustic chic design style that blends the best of both your worlds!
Consider these four great tips for assembling your rustic and chic city apartment.
1. Head out of town for your furnishings. While Pottery Barn will almost certainly be carrying some stylish and suitably rustic furnishings, chic takes more work than that. Don't settle for imitation antiques and vintage fixtures when the real things are so easy (and fun) to come by. Head out of the city, where shops will charge egregious prices, and hit up some suburban and rural vintage shops and antique barns. Consider planning ahead and finding a really great flea market or estate sale for fantastic deals and the opportunity to do a little bartering!
2. DIY distressing. So you probably can't afford to replace your entire collection of furniture, but why not take what you have and give it an antique or vintage look with a little distressing? Do-it-yourself distressing is a breeze given the right tools and materials. Want to rough up a paint job? Go at it with some sandpaper - this can be especially great for wearing away layers of different color paints for a great effect. Use nails, chains or even a chisel to add character to any piece of furniture. Apply new coats of stain or paint as you see fit.
3. The right boards. Flooring will be key to your rustic chic décor, so be sure to go with a hardwood option that has plenty of built-in character. This doesn't mean dings or scratches, but rather the warm honey or red hues of certain tree species and natural whorls of the wood grain. For a bit of modern convenience, consider having radiant heat installed under your boards. Electric heat systems are a great way to stay warm and conserve energy.
4. No wallpaper. Bring a little modern and minimal style in by keeping your walls simple matte colors. Go for the spatial effects of cool blues or greys to keep your space feeling breathable.
Like this post? Subscribe for regular updates
Make sure you don't miss out on the latest news in radiant heating by subscribing to our blog. We'll send you an email with links to the newest posts from WarmlyYours.
We won't share your information and you can unsubscribe at any time with a single click.
---
Did you find this post helpful?
Let us know by giving it some applause.
---
---