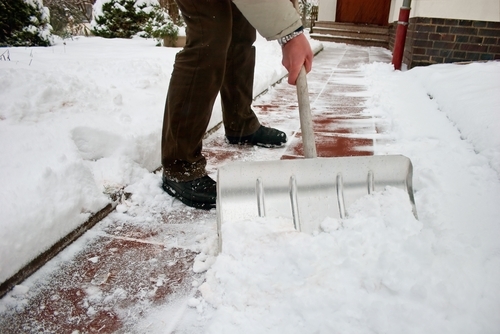 Many areas of the country don't just deal with cold temperatures during the winter, they also have to deal with snow, ice and slush. While some of us may choose to hunker down indoors and enjoy the warmth and comfort of our radiant heat systems, when mother nature brings snow, it must be cleared.
But shoveling snow, even small amounts of it, can be dangerous. In fact, The Wall Street Journal reports a 2011 study in the American Journal of Emergency Medicine found that an average of about 11,500 people are treated in U.S. hospitals each year due to injuries and medical emergencies caused by shoveling snow. Common injuries include muscle aches and strains, back injuries and heart attacks. Additionally, the cold weather can put you at risk for hypothermia and frostbite.
"Slips and falls make up one of the biggest reasons we end up seeing people," physical therapist Aaron Swalberg recently told The Deseret News.
The good news is that there are ways to reduce your risk of getting hurt while clearing snow from your driveway, sidewalk and walkway. 
Outdoor heating 
A driveway heating system is the best way to ensure you won't have to shovel. These products are installed under the driveway, walkway or sidewalk and allow the paving material to absorb heat and melt the snow and ice that falls. The best part is that you can control it from inside!
Approach shoveling as exercise
Shoveling is hard work, and should be proceeded by a warm-up and some stretching. 
Know your limitations
If you're out of shape, or have a chronic heart of respiratory condition, you should leave the heavy lifting to someone else. Hire someone to plow or shovel your driveway to help ensure your health.
"If you cannot work out for 20 minutes, you can't shovel snow for 20 minutes and that is just the way to gage it," Charles Emerman, M.D., told Fox News.
Focus on technique
Experts suggest pushing snow rather than lifting it to reduce the risk of getting hurt. The Deseret News reports that the average shovel weighs about 16 pounds when loaded with snow. Shoveling for 10 minutes could account may mean you have shoveled as much as 2,000 pounds.
"Bend your knees, step in the direction that you are shoveling, and don't forget to breathe," advised Phil Campagna, Ph.D. former professor of Kinesiology at Dalhousie University. "You should never feel winded or short of breath. If you do, take a break."
Experts also suggest staying hydrated, dressing in layers and pacing yourself. Removing snow as soon as it has fallen can also help, as fresh snow is the lightest.
Like this post? Subscribe for regular updates
Make sure you don't miss out on the latest news in radiant heating by subscribing to our blog. We'll send you an email with links to the newest posts from WarmlyYours.
We won't share your information and you can unsubscribe at any time with a single click.
---
Did you find this post helpful?
Let us know by giving it some applause.
---
---