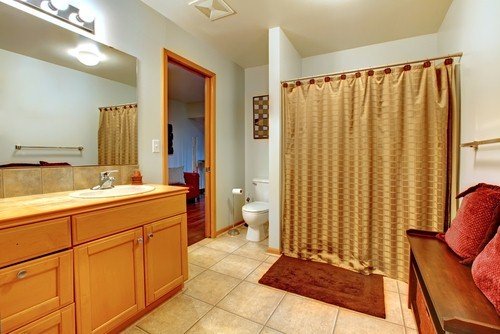 Bathrooms tend to be spaces built for efficiency and optimum cleanliness. We also design our bathrooms to look good, but rarely do we design them specifically to look cozy. In fact, cozy isn't necessarily a word most people would associate with bathroom design at all. Modern, rustic, contemporary, Victorian - all these are specific schools of bathroom design, but none of them give the connotation of snuggling up on a couch beside a crackling fireplace!
Still, a bathroom can be as cozy a space as any bedroom, home library or den! You may not be sheltered under a warm comforter on a couch, but bathrooms have their own comforting amenities. Consider these four.
1. Simple shelving
Shelving doesn't jump to mind when you think of cozy bathroom stylings, but it's an excellent way to add a little decorative flavor to your space. Use your shelving to show off souvenirs or other knick-knacks that blend in with your space's theme, but you can also use it to store a paperback or two. If you're not already in the habit of taking hot baths, now may be a great time to start. Luxurious and relaxing, taking a bath and enjoying a good page turner are excellent ways to unwind after a stressful day.
2. Radiant floor heat
Morning or night, there's nothing worse than stepping out of a steamy shower on a winter day and feeling the chilly tile or boards beneath your feet. Avoid this shock forever and keep your bathroom (or even the rest of your home) warm with radiant floor heating. Installing radiant heat under your flooring is a green way to stay cozy year round using all natural convection currents and energy-efficient heating technology. It's also better for air quality - a huge plus in the bathroom!
3. Towel warmers
Want to add a luxurious (and equally energy efficient) amenity to your bathroom? Keep your towels and robes toasty through even the most intensely chilly winters with a towel warmer.
4. Warm hues
Sometimes, all a space needs is a little splash of color to bring it to the right level of cozy. If your bathroom is a fresh-looking hue of mint or sky blue, you might find the color scheme too cool to be comfortable. While these keep bathrooms airy and breathable during the summer, in winter they can feel almost arctic! Try repainting to a soft orange or red.
---
Tell us About your Project
Our team of Radiant Experts is ready to help! Just tell us a little about yourself and your project to get started.
---
Did you find this post helpful?
Let us know by giving it some applause.
---
---