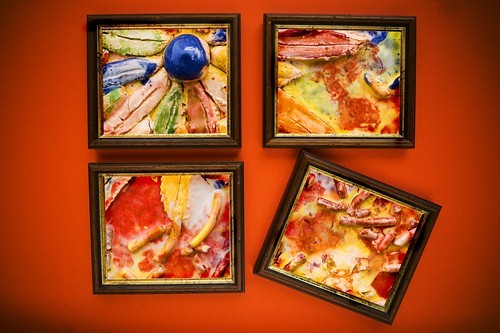 While a room's décor is often dictated by its overall style and your vision, the kitchen is a special case. Nowhere else in the home does efficiency need to lock so securely with aesthetic, and the end result means that many kitchens excel in functionality over style. After all, following a long day of work, you probably care much more that your kitchen is designed for easy meal prep than outfitted with the right drapery.
Why not consider one of the more overlooked parts of kitchen décor though? You may find some unexpected influences on your walls of all places. While you probably don't have enough floor or counter space for ceramics or statues, walls are fair game for a little character-instilling style. Consider these five great options.
1. Still lifes. Whether you're struck by the hyper realism and attention to detail of the Dutch masters or prefer the cubist-meets-impressionist apples and limes of Paul Cézanne, still lifes can be both beautiful and classic ways to adorn your kitchen walls.
2. Vintage food advertisements. From iconic Coca-Cola ads of the 1950s to the evolution of Betty Crocker in the 20th century, advertisements are a form of pop art in their own right! While plenty are available as prints, a good route to go might be picking up some older editions of LIFE magazine and flipping through until you find something in solid condition and worth framing.
3. Food photography. Thanks to iPhone and Android apps like Instagram, photos of people's meals are about as ubiquitous on Facebook as cat memes. You don't have to be a professional or even taken a single photography class to get involved either. Consider printing out a whole collection of courses in little squares - Polaroid style - and arranging them in a frame.
4. Maps. Show off your globe-hopping gastronomica with a giant wall map. Use pins to stick notes into different locales, jotting down the fine foods you tasted from these regions.
5. Radiant heat panels. As much a form of heating during the winter as it is a piece of artwork, a radiant heat panel could be just the thing you need to cozy up your kitchen without sacrificing crisp contemporary style. WarmlyYours' award-winning panels come in three styles and a plethora of colors. The best kitchen bonus? They don't jeopardize air quality like central heating's vents might, meaning your meals are prepared and eaten in the cleanest environment your home can offer.