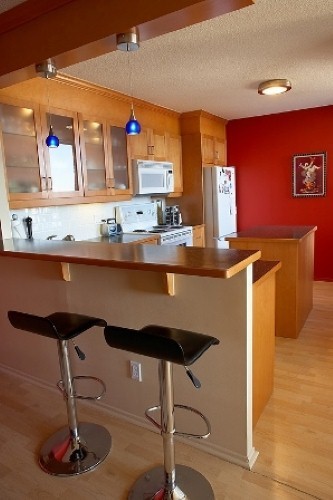 Kitchens are the do-everything spaces in the modern home. As the main gathering spot for all three meals of the day, homework, socializing and countless other activities, your family certainly gives the room its fair share of use on a daily basis. If you're in the throes of planning a kitchen remodeling project, it's wise to keep in mind just how often you use the room for these various activities and how you can make the space more comfortable and functional on a daily basis. The following kitchen features could help to dramatically improve the utility of your kitchen and make it the centerpiece of your home.
1. A kitchen island. At first glance, it may seem like an island could inhibit your kitchen's traffic flow, but it holds boundless potential that can unify your decorative scheme. An island offers additional storage space, a place to install a cooktop or range oven, and a countertop where you can add a few stools or chairs. This can be a great place for your friends and family to congregate during get-togethers or if they need a place to unwind after a long day.
2. Radiant floor heating. Installing new flooring is one of the best aesthetic improvements you can make in your kitchen, but if you'd like to improve your energy efficiency and create a cozy atmosphere, radiant heat could be a great option. This form of climate control can work with most flooring types and it can provide comfort underfoot during any time of the year.
3. Overhead ranges. When you're cooking in your kitchen, the excessive heat of your stove can cause the room to warm up fairly quickly, so it helps to run an overhead range while you work. There are countless designs to choose from that can pair beautifully with your room's appliances, and it can make your kitchen far more comfortable while whipping up a meal. These devices have the added benefit of cutting down on cooking smells, so you won't have to smell that piece of fish or pan of bacon you made days earlier.
Kitchens have become the main communal space in the American home, so keep a few of these features in mind to improve the comfort level and utility of your space.
Like this post? Subscribe for regular updates
Make sure you don't miss out on the latest news in radiant heating by subscribing to our blog. We'll send you an email with links to the newest posts from WarmlyYours.
We won't share your information and you can unsubscribe at any time with a single click.
---
Did you find this post helpful?
Let us know by giving it some applause.
---
---