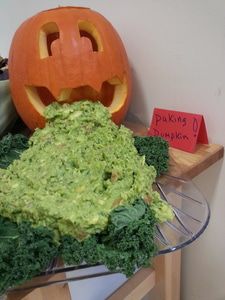 Sometimes a holiday can sneak up on you, but Halloween usually isn't one of them. Between the signature orange and black colors, skeletons and skulls, bats, spider webs, and Jack O' Lanterns, it is kind of hard to miss, especially at the WarmlyYours Radiant Heating office this year. While most everyone knows instantly what holiday is around the corner when these iconic decorations pop up — not as many know why they have come to symbolize Halloween.
Here's some background on five well-known, much-loved symbols we've spotted at the WarmlyYours office and that we're sure are in offices and homes around the country.
1) Jack O' Lanterns
Nothing says Halloween like a flickering Jack O' Lantern on the porch (although at WarmlyYours this year we said nothing says Halloween like a guacamole-puking Jack O' Lantern). Whatever shape or final form the Jack O' Lantern may take, it is one of the leading symbols of the holiday. In fact, in 2013 a survey by the National Retail Federation showed the 47 percent of the adults surveyed planned to carve a pumpkin, second only to handing out candy (70 percent).
Jack O' Lanterns were originally hollowed-out turnips with candles inside them in the Middle Ages, used to light the way from house to house by poor children who would go door to door collecting handouts in return for their prayers for the dead, according to Elizabeth Downing in Top 10 Halloween Symbols and What They Mean."
The tradition eventually changed to carving pumpkins, and Jack O' Lanterns as we know them were born.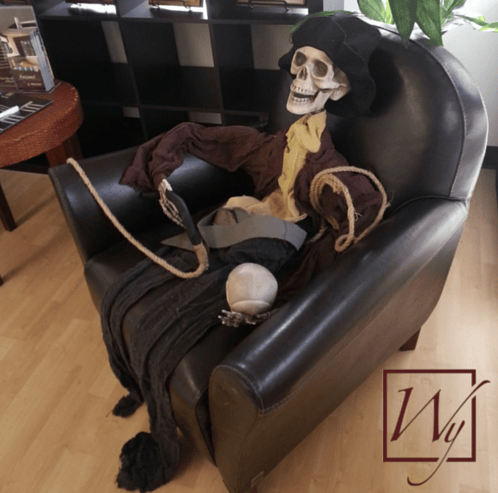 One other legend related to Jack O' Lanterns' history involves the story of an Irishman named "Stingy Jack" who died and neither heaven nor hell wanted him. He was forced to wander around on earth carrying a hollowed turnip with a candle inside. To scare him away, the Irish carved "scary" Jack O' Lanterns to put outside their doors.
2) Skeletons
While the Irish may have thought their Jack O' Lanterns were scary, the skeletons and skulls around the WarmlyYours office seem a bit scarier. Skulls are a symbol viewed very differently by many different cultures. For some, they represent death and even evil, while others see them as symbolizing protection, strength, power, fearlessness, wisdom and guidance. For example, the Jolly Roger symbol on pirate ships was rooted in protection — it was there to threaten other ships into surrendering without a fight. "All in all, skulls and skeletons are associated with Halloween because they represent the end of the physical part of life, something that is connected to Halloween both because of the death of the 'light' seasons and because of the perceived connection to the spirit realm," Downing described.
3) Bats
Bats might have some stiff competition from other iconic symbols for the "most Halloweeen-y" symbol, but bats just might have more connections to the many symbols of the holiday than any other. For example, Downing detailed:
Bats are nocturnal creatures, so Downing said it is natural that a celebration about the end of the light seasons and the beginning of the dark ones would incorporate them.
In the old days Halloween meant big bonfires, which draw mosquitoes and moths, which would in turn draw bats, so bats were likely a common sight during the early Samhain festivals and later Halloween celebrations.
Those rational explanations aside, bats are sort of creepy, and certain groups thought that the little flying rodents were able to communicate with the dead.
Once vampire legends made their way into Halloween folklore, the position of the bat was set – since it was thought that vampires could transform into bats.
Plus, witch hunters were pretty sure that witches could transform into creepy creatures like black cats, bats, and spiders, so there's that, and there are vampire bats who only feed on blood," she described.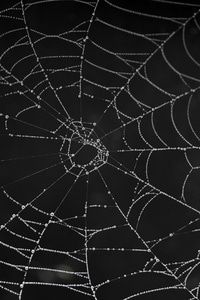 4) Orange and Black
The colors orange and black are more literal representations of the season, and not necessarily any Halloween lore or mythology. Orange likely represents autumn, when the leaves turn from green to orange, and the black represents the dark days of winter and loss of daylight hours.
5) Spiders and Spider Webs
Spiders and spider webs are common symbols of Halloween. Spiders and their weaving of webs have represented the passing of time, progress, and fate. And spiders and spider webs go hand-in-hand with abandoned houses.
All in the all, the symbols combine for fun decorating and celebration of the holiday.
"The WarmlyYours office is decked out for Halloween and we've been counting down to today with several office events," shares Nia-Shea Grosche, Marketing Assistant responsible for internal marketing at WarmlyYours.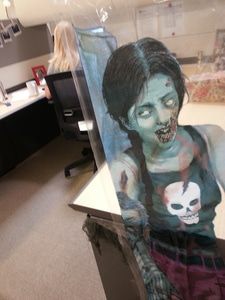 The first two weeks of the month included a candy jar contest where everyone tried to guess the amount of candy in the jar. "Our database programmer, Eric Mumbower, guessed the EXACT amount of candy — 61 pieces!" she shared.
Employees were also encouraged to decorate their cubicles around the office for the holiday. Those who participated received a raffle ticket to be put in a drawing for a $50 gas card.
"The company's catering service that we have every Monday made a fabulous Halloween lunch this week! This spooky treat included brains in jars, (cake and frosting), bat wings (wontons), mummy dogs (hot dogs that look like mummies) and a Jack O' Lantern vomiting guacamole," Grosche detailed.
Add together the Halloween Treat potlucks the last two weeks of the month, Halloween-themed Bingo, and a costume contest (where the winner for best overall costume will receive $100 and the runner up $50) and all the decorations — and it is safe to say that we know what holiday it is around here!
Have fun celebrating the holiday with family and friends. Share your celebrations on WarmlyYours Facebook page or tweet us photos at @WarmlyYours.
Sources:
http://www.cdc.gov/family/halloween/
http://www.toptenz.net/top-10-halloween-symbols-and-what-they-mean.php
http://www.pumpkinpatchesandmore.org/halloweenfacts.php