On Thursday, families around the country will come together around the dinner table to enjoy a meal together. Thanksgiving is all about appreciating the blessings that each of us has been given. In fact, expressing gratitude is one of the chief contributors to happiness: the more we share our appreciation, the more joy we experience. The expression of gratitude is an endless circle that creates even more reasons to be thankful.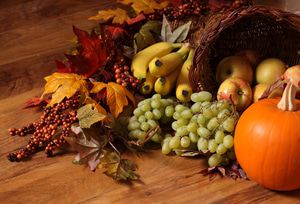 As the season of giving thanks approaches, we at WarmlyYours reflect on the many things for which we are grateful.
Men and Women of the Armed Forces
The many freedoms we enjoy are made possible by those who dedicate their lives to serving our country. Without the men and women in our military, our lives would be very different. We here at WarmlyYours would like to take the opportunity this holiday season to say thank you to our troops for their service and sacrifice.
Taking a moment to thank the service members we know is just the beginning. This year during our Veterans Day fundraising promotion, we donated $2 for every sales made from November 11 through 15 to Homes For Our Troops (HFOT), a nonprofit organization that works to provide homes for veterans with severe injuries or disabilities. The drive was a great success, and we were able to donate $344 to HFOT. This was only possible with the support of our customers. Thanks to everyone who participated in our Veterans Day promotion and helped us give back to the men and women who have sacrificed so much for us.
Another way we thank our troops is by supporting their families, who also sacrifice for our benefit. This year we are donating $270 to Smokin' T's Bar-B-Que in Long Grove, Ill. to sponsor meals for military families. Smokin' T's provides complete Thanksgiving dinners for the families of service men and women, who are currently deployed or have recently returned home. This is our second year contributing to this event. We are grateful to Smokin' T's for all the work they put into the even and that WarmlyYours can take part in recognizing military families for their often-overlooked contributions.
The Warmth of Family and Friends
At WarmlyYours, we are also grateful for those closest to us. Our family and friends support us in our daily lives, and the holidays feel warmer and brighter thanks to our loved ones.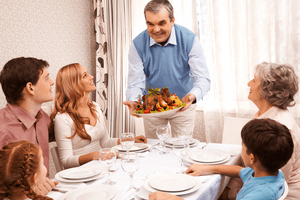 Take time this holiday season to tell those you love just how much their presence in your life means. Whether you express your thanks face to face or write a letter, your loved ones will feel appreciated. This could be the year to start a new family tradition . Writing a small note to each of your Thanksgiving dinner guests, sharing the reasons you are glad they are a part of your life is just one way to express your gratitude. Or, you can provide notecards for your guests to write what they are thankful for this year. Then, choose a time, perhaps before sitting down to dinner or when dessert is served, for everyone to share what he or she is most thankful for.
Our Hardworking Staff
At WarmlyYours, each Thanksgiving, our employees take time to write notes of appreciation and share what we are grateful for in our lives. Here are just a few of the notes from our wonderful staff:
"Thankful for my fun and silly family!"
--Danielle
"I'm deeply thankful for the love and support of friends and family during times of personal loss. I am also thankful to our military, past and present, and especially to those who have given up their futures for ours."
--Victoria
"I am thankful that my wife said, 'I do' when we were standing at the altar and that Julia approved of me working remotely."
--Matt C.
"I am extremely thankful for second chances. It is rare that you can leave a position at a company and still have a home when that other opportunity doesn't pan out. This leads me to also be thankful for the environment that I get to work in everyday. It is actually easy for me to wake up for work each day because I know I'm going to make an impact and have a good time with friends while doing so. I am thankful for all of the good people at WarmlyYours as they are what add the character and excitement to what could otherwise be a dull bank of cubicles.
"Thanks!"
--Eric
"This year has truly been such a journey.... a time for reflection, for sure. I am so thankful for my health and my family and friends. I am truly blessed beyond measure for everything and every person I have experienced and encountered in my life."
--Kerilyn M.
Our Wonderful Customers
And, of course, we are truly grateful for you, our customers. Thank you for your ongoing support, which motivates us to continually seek new ways to grow, improve, and serve you better. We wish you and your families the warmth of love, gratitude and joy this season.
Happy Thanksgiving!
Sources:
https://www.hfotusa.org/
http://www.smokintsbbq.com/sponsor.html
https://www.warmlyyours.com/en-US/posts/warmlyyours-blog--WarmlyYours-Salutes-Our-Heroes-946
http://beautyandbedlam.com/thanksgiving-traditions-ideas-to-instill-gratitude/
http://www.upworthy.com/scientists-discover-one-of-the-greatest-contributing-factors-to-happiness-youll-thank-me
www.soulpancake.com/happiness01