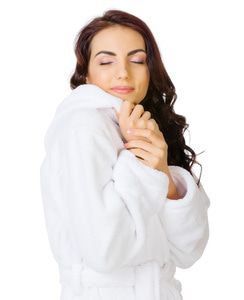 The moment you put on the bathrobe hanging in the closet of your hotel room, you achieve one of the ultimate "ah" moments of true relaxation. Although nothing beats a true vacation, intentionally adding some thoughtful touches of warmth and luxury — including a fluffy bathrobe — can bring that relaxing "hotel feel" right to your own home year round.

"First-class hotels are defined by their luxury, style and quiet elegance," says the DIY Network. "You can re-create this look in your own home by adding sleek accessories, fine toiletries, plush towels and rich fabrics."
While you may not have the budget for the largest, most lavish hotel features, there are many simple, affordable features that can add an immediate upgrade to your home. Add these seven hotel-style touches to your home to add the luxury and elegance of a first-class hotel.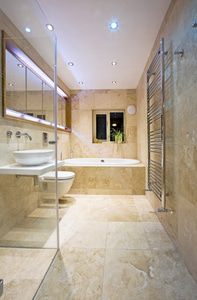 1. Electric Towel Warmers
Stepping out of a shower or bath to luxurious, freshly warmed towels waiting for you on stylish heated towel racks is exactly the type of comfort you find at a high-end hotel. Several different models make it easy to match your current bathroom design. Plus, electric towel warmers from WarmlyYours Radiant Heating are simple to install for an instant bathroom upgrade.
2. ClearlyYou™ Mirror Defoggers
Enjoy the luxury of a fog-free mirror in your own master bathroom with ClearlyYou™ Mirror Defoggers. High-end hotel bathrooms boast that pristine feeling, including streak-free mirrors. The gentle, radiating warmth of a mirror defogger extends across the mirror's surface and prevents moisture from forming while you bathe or shower. A self-adhesive backing allows for simple application to any wall-hung mirror.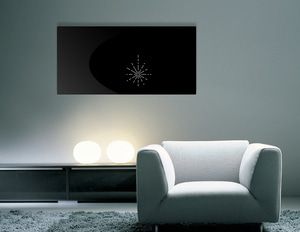 3. Radiant Heating Panels
LAVA® and Ember® radiant heating panels create extra warmth and comfort as you move around the room — the kind of extra warmth and comfort you find in a thoughtfully designed hotel room. Radiant panels from WarmlyYours come in different styles, colors and sizes to add to the beauty of your existing décor.



4. Radiant Panel Accessories
Add sleek, functional towel bars to your WarmlyYours LAVA® or Ember® infrared heating panels so they can serve a dual purpose: warming both the room and the towels. Enjoy the pampered feeling of heated towels any time you want.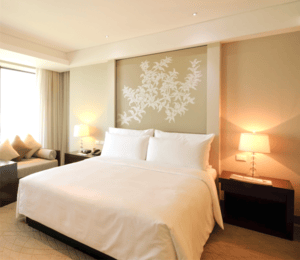 5. Hotel-Worthy Bedding
Adding the crisp, white covers and sheets commonly found on hotel beds is an instant upgrade with a broader impact than you might first think.
To create the "hotel effect" with your bed, the all-white color scheme is the key.
"When Westin hotel designers trial tested their now-famous Heavenly Bed, they noticed a peculiar trend: 'The all-white bed created this halo effect,'" said Erin Hoover, vice president of design for Westin and Sheraton, in a Huffington Post article. "People thought a room had been renovated, even if it was just the bed that had been changed. It had a huge impact."
Find the highest thread-count sheets you can, go crazy with extra pillows, and when you have the chance, invest in a quality mattress pad or featherbed to create that feeling of a bed you could sink into for days. Read more tips here.
6. LED Lights
"When lighting is done right, the space feels right — and it's not an exaggeration to say that the quality of lighting defines the quality of a hotel," writes Amy Locke, director of interior design at Hatchett Hospitality, in a Hotel Business Review article. Hotels that create the perfect customer experience have three types of lighting (1) task, (2) ambient, and (3) accent lighting. Your bathroom will have task lighting, so add ambient lighting (lighting that is decorative and creates drama and mood) to enhance the mood of your bathroom. Add RGB LED lights to your LAVA® radiant panels to change the color and lighting of your bathroom with brilliant LED lights in unique designs. They will create the same wonderful mood lighting that is expertly designed into hotel rooms.
7. Keurig Brewing System
When you stay in a hotel, having a Keurig® Brewing System to brew the perfect instant cup of coffee to savor is second only to wireless Internet, according to polls conducted by Keurig Green Mountain. Having a Keurig Brewing System in your room or even in your guest room is a simple way to create a pampered feeling for you and your guests.
Whether it's a steaming cup of coffee, a warm towel, or the perfect LED lighting, these accessories will all create a relaxing, hotel-like feel in your own home. Better yet, they'll also add comfort and convenience for your future guests.
To learn more or to place an order for these accessories for your home, visit www.warmlyyours.com or call WarmlyYours at 800-875-5285 today.
Sources:
www.diynetwork.com/bathroom/transform-your-bathroom-with-hotel-style/index.html
www.huffingtonpost.com/2014/10/19/hotel-bed-at-home_n_5991552.html
http://hotelexecutive.com/business_review/1290/lighting-and-flooring-can-dramatically-affect-the-mood-of-your-guests-and-the-value-of-your-hotel