Usually for "Share Your Story," we've chosen an outside customer to share their story about their enjoyment in owning and using a WarmlyYours radiant heating product. But, for this month, I thought I'd share my own story about the installation and sheer enjoyment of our own radiant floor heating.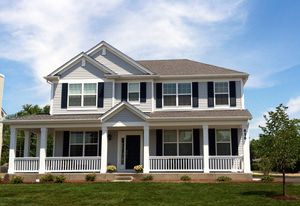 Stretching back to the fall of 2011, we began the process of purchasing our very first home and we were fortunate enough to build our own house. It was incredibly thrilling to not only be purchasing our first house, but to have the opportunity to customize and choose every small detail about the interior and exterior.
As we were full into the design phase of the building, adding in-floor heating to the beautiful, but cold ceramic tiles that we had recently chosen for our master bath and hall bath were an absolute essential to us. As a resident WarmlyYours marketer, I definitely wanted to have my house show off the product that I work to promote and market every day. So, with a few special permissions from the builder, we added and installed TempZone™ Cut & Turn Rolls in our master bath, and the TempZone™ MiniMat in our hall bath.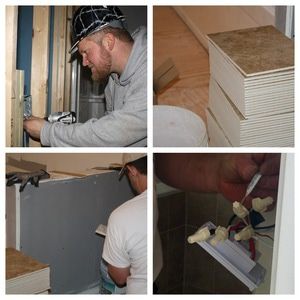 Immediately after meeting the electrician who prepped the installation and completed the connection to the power and thermostat, I was handed a rough plan for his own kitchen to get a quote to install WarmlyYours floor heating in his own home. He said that he was so impressed with the clear directions and easy installation of our product that he was convinced that he wanted WarmlyYours floor heating in his own house over any other brand that he previously researched ...yep, WINNING.
The process of installing floor heating in a home was new for the General Contractor for this K. Hovnanian development, and he was completely sold on the product after assisting in the installation. After the installation was complete and after a long day of building houses, the General Contractor, Nick, told me that he cranked-up the floor heating in our master bath and laid down on the warm tile floor to soothe his aching back. In his words, "The floor heating in there is absolutely incredible. The tension in my back released as soon as I laid on that warm floor. I've got to get this in my own house!"
For the flooring contractor, the installation of WarmlyYours floor heating was not a new process for him. In fact, he was only willing to install using WarmlyYours' product, since he preferred the ease of installation over other brands. Another win for this marketer!
After an unusually warm Chicago winter, we were able to move into our house two months ahead of schedule, and because we seem to be "gluttons for punishment," we unpacked and set up our house from a Tuesday to a Friday (early Saturday morning), yep 4 days, and then on that Saturday, hosted a big graduation party for my husband, Devlin who graduated with two master's degrees (a shameless shout out from a proud wife). The party, of course, featured a full house tour and even included a full demo of the floor heating in both bathrooms. Where each person took off their shoes and happily stood on the warm tile floor, each exclaiming that they wanted this in their home too.
Since living in our home for about 2 months now, we have enjoyed waking up to warm, luxuriously feeling floors in our bathroom, especially with our programmed SmartStat to match our lifestyle and schedule to ensure optimal comfort each day. And, honestly, I ask you, why build a luxury master bath and have to endure cold floors? My mantra is that you deserve to enjoy every bit of the luxury and comfort that your home can offer, and adding floor heating reclaims the once-cold, uncomfortable floors, while also letting you use it as a primary heat source during the winter months.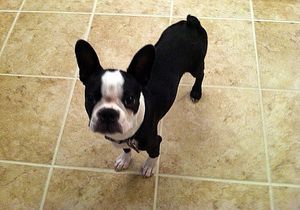 Big thanks to my WarmlyYours family for giving Devlin and I the luxury and comfort of our fabulous products in my own home. Oh, and our Boston Terrier, Coach, who loves to be cozy, thanks you too!
----------------------------------------
If you enjoyed this story, you may also enjoy reading about last month's "Share Your Story" winners, Remodeling Designs Inc., "A Warm Relationship with WarmlyYours " or feel free to read through all of our winner's stories!
We'd love to hear your story, too! Share it with us!
---