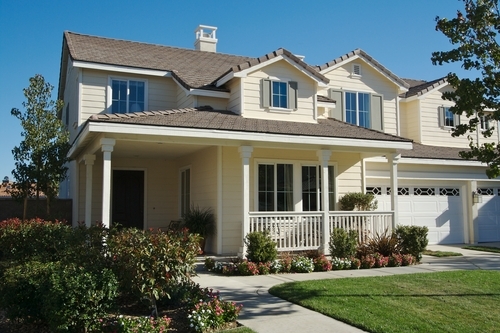 Wherever they live, homeowners can incorporate home styles associated with certain regions within their own dwellings. That way they can include particular historical periods or architectural influences they love regardless of their location. From Mediterranean-style low rises on the West Coast to colonial homes in the East, regional differences show up in all aspects of home design.
Seaside Style
Mediterranean flair conveys the relaxed atmosphere of seashore home with chic French country furnishings. Home decorators can recreate the mellow mood of Mediterranean life with subtle blue and white fabrics, accents of green and a mix of stripes and floral patterns. In their kitchens, accessories may include hand-crafted pottery pieces and wooden bowls to add the ambiance of a garden cafe.
One HGTV viewer presented her interpretation of the Mediterranean by transforming a tiny deck off a kitchen into a simple yet comfortable place in the sun. A metal-frame outdoor chaise lounge with deep cushions was matched by a metal bistro dining set for two.
Several large container plants with pink blooms were offset by branches from nearby surrounding trees. The white chaise cushions were an ideal choice for a small space. Throw pillows in green and pink stripes pulled in the colors from the plants and trees.
Timeless Mission Furnishings
Craftsman and other style bungalows have been a mainstay of Midwestern home architecture for generations. The Mission style of furniture - also called Arts and Crafts - has always been associated with one-story bungalow living.
Mission features fit beautifully with today's trends, such as the growing popularity of geometric, wood-stained furnishings and hardwood floors. The style has historically had a masculine look, but now suits any taste with its use of striped wood grain oak and simple hardware. Installing radiant floor heating warms up the space with heat distributed uniformly without a duct system to interfere with the design of the room.
With Mission's clean design lines, homeowners can pair Tiffany glass lamps and upholstered seating in this decor. Deep green, red and brown complement the look, along with area rugs in nature colors. Other materials that embellish the Mission style include metals, stained glass, painted tiles and fabrics featuring floral motifs.
Early American Recreated
Colonial home styles are more prevalent in New England than in the American West, but there's no reason why this architectural look can't be featured in homes coast to coast. The colors associated with colonial times are a good match for modern furnishings and paint techniques from earlier eras are still used today.
According to HomeDecoratingCoach.com, paint colors in these early homes included red, mustard yellow and moss green, as well as tan and gray. Often, homemakers produced grained or marbled finishes on the walls for a more elegant look. Those painting techniques are a good substitute for wallpaper in moist environments like bathrooms and kitchens.
But homeowners don't have to give up on modern conveniences when they choose a period look for their rooms. Adding items like towel warmers to a bathroom painted in colonial colors is a way to have a historical look and contemporary touches at the same time.
To carry through the theme, homeowners may want to outfit their spaces with pewter accessories and needlepoint pillows on chairs. Folk art, a popular decoration in colonial times, offers a number of colors that homeowners can choose from this traditional palette.
For tablecloths or runners, patterns that are reminiscent of fabrics from the colonial era add another touch of authenticity. Or, home decorators who have a flair for craft work can use fabric paint to create old-style marbled patterns on pillows and other soft furnishings.