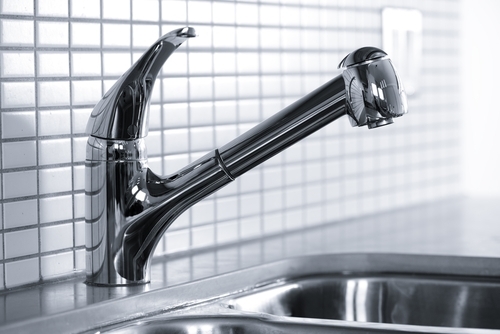 Just about everyone can become a little bit - or perhaps a lot - bored with certain aspects of their home's interior design after a while. Kitchens are no different from any other space in a house in this regard. If you've come to this particular conclusion, you might have specific ideas of what you want to change in mind.
That being said, you might also have no clue about what exactly you want to change - the desire to make adjustments is just a nagging thing in your mind. If so, you may want to take a cue from more modern design trends (as opposed to classic interior layout choices), so do some research into some of the latest kitchen updates, ranging from one-of-a-kind cabinetry to radiant floor heating.
Backsplashes
This design feature, where a layer of tile, metal or similar material is mounted on the wall in your kitchen to fit between the counters and the cabinets, has seen a notable surge in popularity of late. A backsplash serves as an easily noticeable and fairly uncomplicated way to significantly increase the aesthetic appeal of the space.
If you have the time, materials and a reasonable level of skill with tools, a backsplash is something you might be able to install yourself. In addition to the tile of your choice, HGTV states that you'll need grout, stone sealer, an electric drill and a number of other fairly common household tools.
Custom cabinets
This particular home improvement might be outside the budget parameters of some, as handmade or otherwise crafted-to-order cabinetry can become fairly expensive. If it's within what you're willing to spend, new modern cabinets could be just the ticket for your kitchen.
You could take a cue from Better Homes and Gardens' example of a contemporary kitchen with updated cabinets. According to the source, the homeowners in question installed cabinets that featured stainless steel hardware, an ebony and walnut blended stain finish and mirror inserts in the upper doors, for an intriguing fusion of classic and modern.
Radiant floors
If you want to give your kitchen a modern touch that also provides the sort of comfort that can't be quantified in terms of modern or classic, consider incorporating radiant panels into the floor design. They are compatible with most common kitchen flooring types, including tile, stone and hardwood.
With this addition, your kitchen's overall atmosphere can be notably improved. Whether you want to provide a warm, welcoming experience during a dinner party or simply make the space more comfortable when you're cooking, you can achieve a new sense of enjoyment with radiant floors.
---