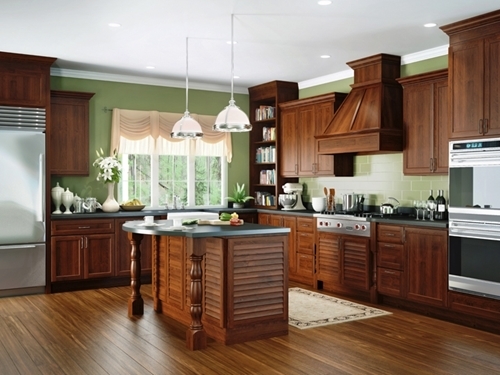 Kitchen activities have expanded in recent years, and the right design will help carry out all the functions that occur in this room. But setting up different activity areas requires coordinating cabinets and appliances around them in a way that won't disrupt the travel patterns needed for food preparation.
"With a trend for more open-plan living, the kitchen is the hub of the home where all the family can congregate, so it can cater for many different other activities and makes it worth spending the money on, as well as adding value to your property," interior design writer Ronnie Whelan told About Property.
While it's still the heart of the home, the activities in kitchens have expanded greatly since grandmother's day. There's often space for visitors to congregate while homeowners continue cooking and entertaining at the same time.
Different Arrangements
A workspace set aside in the kitchen for paperwork or a place to use a laptop can be a boon to all members of the family.
OldHouse.com reported that homeowners can get a lot of use from a desk extension at the end of a long countertop. Children can use it to get their homework done, while adults can set it up as their bill-paying and home planning center. When more room is needed for kitchen duties, office supplies can be whisked into a drawer installed under the countertop.
One way in which homeowners can get more space is to install electric in floor heating that eliminates the need for baseboards and air ducts. With a wall switch, a uniform and energy-efficient supply of radiant heat will be maintained throughout the space.
Changing Color Patterns
In recent years, kitchen hues have moved away from Tuscan shades like terracotta to bolder hues that offset light and dark wood cabinetry. According to HGTV.com, colors like vibrant blue tones and stone gray aren't restricted to accent walls any longer. They are strong choices to offset stainless steel appliances as well as wood panels that homeowners can use over appliances to coordinate with cabinets.
Designer Jamie Drake, author of New American Glamour, told the design channel that many kitchens don't have much open wall space so if a brighter color is used, it doesn't overpower the room.
For those who prefer neutral shades on their walls, there are still many ways in which accent colors can be introduced. Whelan said homeowners are increasingly choosing to mix and match different colors to put their own stamp on their home design.