When dealing with the process of repairs or remodeling, it is wise to get the most out it. Carole Amos was able to solve two problems with just one remodel when she installed an electric floor heating system from WarmlyYours Radiant Heating, Lake Zurich, Ill.
The problems started when the previous ceiling radiant heating system in her two-story Mountain View townhouse stopped working in 2012. This left her reliant on a space heater and burning the occasional Duraflame log in the living room fireplace downstairs. Then a broken water pipe damaged the existing Pergo® laminate flooring in her downstairs.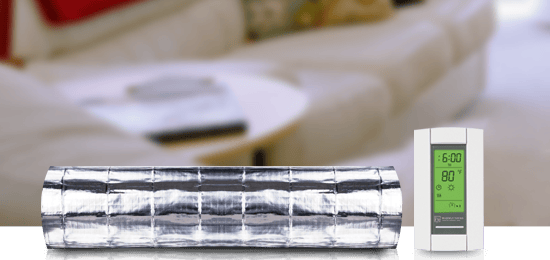 When Amos met Jim Kabel, owner of CASE Design/Remodeling of San Jose, at a local small business party and found out he was a general contractor, she asked him to help come up with a solution to both of her problems — the broken heat and the damaged floor — which was no small task.
The installation was challenging for several reasons, starting with the design of the townhouse. Kabel describes the townhome as very "economically constructed" with no unused space in first and second floor: no attic space, no crawl spaces, no basement, and no space for central heating. This limited the options for a new heating system.
Repairing the existing system was also not an option, Amos shared, because the company that manufactured it had gone out of business. She had settled on replacing the damaged floor with a new hardwood floor, so Kabel researched and found WarmlyYours and determined that it would work under a hardwood floor, Amos said.
Kabel explained, "I knew radiant floor heating might be an option, but most of my experience has been with bathroom and tile. Temperature variations with a hardwood floor tend to be a 'No, no,' so I wasn't immediately sure radiant heating would work under the wooden floors she wanted."
The WarmlyYours website was informative, Kabel said. While other manufacturers didn't specify whether the radiant heating was acceptable for wooden floors, WarmlyYours offered systems, which are specifically listed for installation underneath hardwood flooring. "It put my mind at ease to know the flooring system was specifically designed to work under hardwood floors, and I appreciated that the website provided special information just about hardwood floors," Kabel said.
Kabel also asked for the names of companies WarmlyYours had alliances with that could guarantee their flooring worked with the heating. This included companies such as Launstein Hardwood Floors, which gave WarmlyYours heated hardwood flooring a GOLD STAR rating for its performance under hardwood flooring.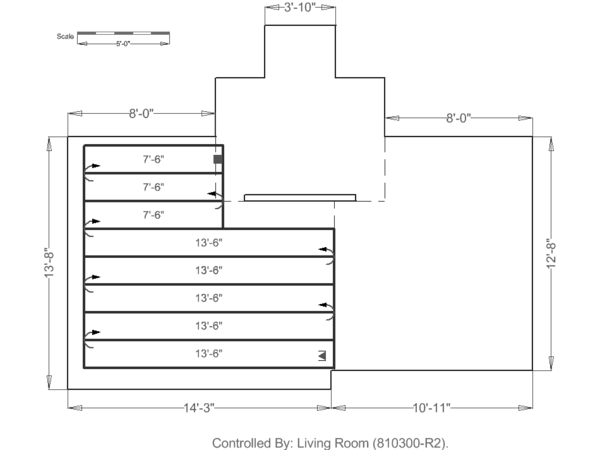 From there Amos' designer worked to choose a flooring selection. Kabel ordered the flooring working off a complimentary floor plan provided by WarmlyYours, and the installation commenced.
Removing the existing laminate flooring was the most time-consuming part, and once it was up crews were able to lay out the Environ™ Flex Rolls. A prefinished engineered hardwood floor, called Rockford Maple Brendyl, was then floated on top. Within days, Amos had a warm home and a striking new hardwood floor.
"The home is a lot more comfortable," Amos shared. "Last winter, I know there were days that the ground floor was cooler than 55 degrees. The house is on a concrete slab, so it's pretty cool naturally. And, the new floor looks much better to me. The Pergo was a light yellow color and the color of the new floor is much better suited to the house," she added.
That's two problems solved for the price of one remodel. And one very satisfied homeowner.
Read more about this installation in an article featured in Palo Alto Online.
Products Used:
1TH115-AF-GA-08SmartStat 120V/240V, 7-Day Programmable GFCI Thermostat and Floor Sensor
1ERT240-1.5x14Environ™ Flex Rolls 240V 1.5' x 14', 21 sq.ft. - 1.1 amps
1ERT240-1.5x60Environ™ Flex Rolls 240V 1.5' x 60', 90 sq.ft. - 4.5 amps
1ERT240-1.5x90Environ™ Flex Rolls 240V 1.5' x 90', 135 sq.ft. - 6.8 amps
WarmlyYours Environ™ floor heating systems, like the one installed in Amos' home, allow for easy installation and provide luxurious warmth under floating wood, laminate and carpet. For installations under nailed hardwood flooring, tile or stone, where the heating element can be embedded in a layer of self-leveling underlayment (SLU) beneath the floor covering, WarmlyYours offers our TempZone™ floor heating solutions, available in Flex Rolls, Easy Mats and Floor Heating Cable (Twin) to meet the needs of any installation.