Every day, with every step we take, our feet take a beating. We often overlook this fact, especially in these cold winter months, when our feet are swaddled in layers of socks, stuffed in slippers, or swallowed up by thick, fuzzy boots. Yet, when was the last time you wiggled your bare toes or given a "thank you" massage to those hard working feet?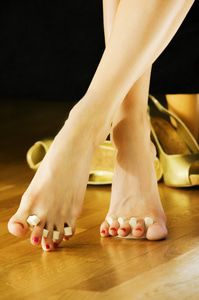 It is time to free those forgotten tootsies.
Now, don't panic. Just thinking about the consequences of unswaddling those toasty feet or stepping out of the shower onto the icy tile floor without your slippers can be enough to send chills down your spine. It doesn't have to be that way.
Radiant heat can free your feet!
It may not be beach season yet, but the radiant warmth of electric floor heating provides your feet with a great escape from the everyday pressures and pounding. Heat offers many therapeutic effects. For years, it has been recommended for muscle soreness because it can increase circulation, relieve muscle spasms, and provide pain relief. And, on top of everything, it just feels good. Imagine stepping on a floor that warms you from the sole. No need for slippers or thick socks. Your feet no longer have to hide.
Once you free those tootsies, treat yourself to a pedicure. Whether you do your own pedicure or go to a salon for a professional touch, you are taking steps towards making a positive difference for those abandoned extremities. The cutting, clipping, and cleaning of your nails prevents infection and exfoliating prevents bunions or corns. Not only are pedicures beneficial to your foot health, but also having your toes painted – in one color or with a design – is great for lifting your mood.
WarmlyYours encourages you to free your feet with radiant heat. We would also love for you to share your pedicures with us! Get creative. Go for artsy or elegant, sexy or silly. Whatever you do, make it fun, and WarmlyYours might make it worth your while.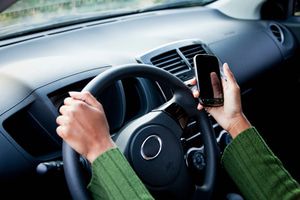 From March 3 through March 14, submit a photo of your freshly painted toes on the WarmlyYours Facebook page for a chance to win a $40 gift card to Ulta or Home Depot. The more creative the design, the more radiant!
And while a little nail polish is always fun, did you know that it could help save lives? Distracted driving has become a serious, sometimes even deadly, traffic hazard. While many of us know that texting while driving is dangerous, we just can't resist that temptation. To help break the habit and promote safer driving, one man, a chronic offender by his own admission, came up with a creative solution, and, soon after, began the Red Thumb Reminder movement. The idea is simple, cheap and effective. Just paint your thumbnail with bright red polish, so when you pick up the phone to text, post, or anything else that might distract you while driving, the red polish will remind you to stop and think about what you are doing, signaling you to wait until you reach your destination.
So break out the nail polish and join us for fun, prizes, and most of all safety. Take a step on the right path, and set yourself free from bad habits as well as restrictive footwear.
Sources:
www.redthumbreminder.com
www.facebook.com/WarmlyYours
www.warmlyyours.com