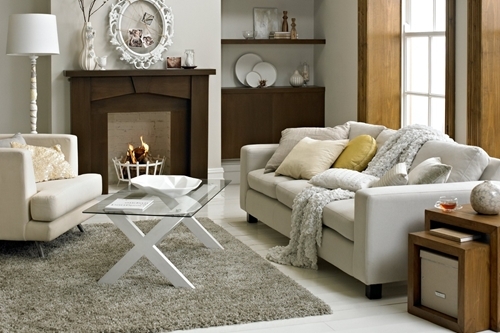 A strong sense of style, creative ideas and resourcefulness help both professional and home decorators bring together the best contemporary furnishings and collectible finds to create home design that's truly unique. To do that, they often shop in a variety of venues, from upscale shops to antique marts.
Quality Matters
Good quality fabrics and furniture with classic lines will last for many years so designers in the know often start by investing most of their decorating dollars in the things that will be around the longest. Family keepsakes and accessories that are well-loved will usually work surprisingly well with both traditional and contemporary pieces as long as there's balance in the overall look.
One example is to find a flea market bench, side chair or sofa and give it new life by reupholstering it in a high-quality material. Or do the opposite - take an upscale sofa and accessorize it with inexpensive pillows. They can be changed according to season.
In the same way, an inexpensive coffee or end table will look elegant with the right choice of coffee table books or a striking sculpture. A well-used lamp can be given new style with a fresh coat of paint on the base and a new lampshade.
House-Wide Decorating Plan
Beautiful rooms don't have to be limited to areas that visitors see most. Rooms beyond the kitchen and living room deserve the same treatment, both in style and functional convenience. Radiant heating, for instance, is a welcome addition to any room for its ease of use and energy efficiency. Having infloor heating ensures even distribution of warmth without installing duct systems.
Just because a particular space has a utilitarian purpose shouldn't be a reason to leave it off the decorating to-do list. In a home office, a desk with simple, contemporary lines from a discount store may be offset by a classy hardwood or fabric-covered chair that's comfortable and offers good support. Quality hardware for drawer pulls and knobs can give office storage units a high-class look as well.
Natural Focal Point
In any room design, window treatments can become focal points that tie into the furniture and color scheme around them. Valances may be of wood similar to the flooring, upholstered to go with other soft furnishings or decorated as an accent to the rest of the room. A valance can also be mounted over window shades, blinds or curtains that homeowners choose based on their style or privacy needs.
Like this post? Subscribe for regular updates
Make sure you don't miss out on the latest news in radiant heating by subscribing to our blog. We'll send you an email with links to the newest posts from WarmlyYours.
We won't share your information and you can unsubscribe at any time with a single click.
---
Did you find this post helpful?
Let us know by giving it some applause.
---
---