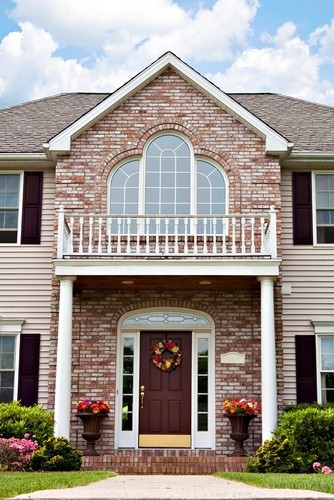 The first room guests see when they enter your home isn't usually a room at all. Foyers exist somewhere between that and a hallway - functional and elegant, cursory but incredibly important. While you rarely linger in your home's foyer for longer than a minute - certainly not as long as you spend in a dining room or living room - its design is still incredibly important.
So what kind of foyer do you want to craft for your home? No matter what style you choose and décor you adopt, the foyer should be comfortable. Whether you're coming home from a long day at the office or guests are being welcomed into your home, it's essential that the foyer be a temperate and inviting spot. Installing radiant floor heating can help you find that ideal comfort zone. It's easy to put in under a variety of floor types, eco-friendly and offers a far more satisfying experience than central heat. Rather than getting hot gusts of air, adjust your radiant heat system to the temperature you want, or pre-program it to heat up and cool off depending on the time of day.
Now it's time to consider your foyer's style. Should it flow with the rest of the house or make a grand statement? Browse these options before settling on your foyer's look.
1. Bringing the outside inside. Since the foyer is an entryway - a portal to and from the outdoors - why not let nature inform your style. Consider a wallpaper styled with leaf and flower prints, a collection of botanical paintings or even a simple side table topped by a vase of flowers.
2. Going location-themed. Decorating an entire home in a seaside theme can be a bit much. Too many rooms bedecked with shells and model ships can kill your home's style, but focusing on one space - especially a house's entrance - can be a great nod to your locale

3. Keeping it sparse. If you're a fan of mission-style furniture and austere décor, you may want to simply keep your foyer clean, clear and reliant on wood and ceramic hues to give it its warmth. Rather than overwhelm yourself or guests with a bombardment of color and design, let your home's natural charm do the work.
Like this post? Subscribe for regular updates
Make sure you don't miss out on the latest news in radiant heating by subscribing to our blog. We'll send you an email with links to the newest posts from WarmlyYours.
We won't share your information and you can unsubscribe at any time with a single click.
---
Did you find this post helpful?
Let us know by giving it some applause.
---
---