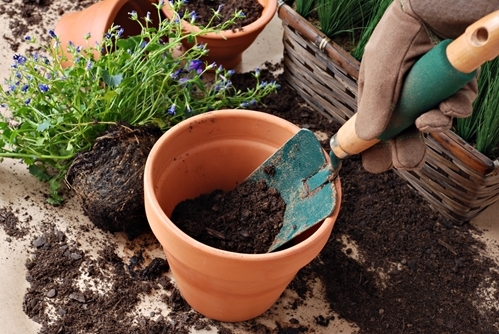 Spring is the ideal time for homeowners to embark on home improvement projects of all types. 
Whether you have a large budget and want to make big changes, or are looking for some more affordable options, experts say now is the time to make a plan.
Kitchen
The kitchen is one of the most used places for everyone in your family as well as your guests.
Individuals who want a complete overhaul can consider new cabinets, flooring, appliances and countertops. Experts suggest working with a kitchen expert on design specifics and hiring professionals for projects including installing cabinets, plumbing updates and electrical work, such as laying a floor heating system.
 However, it's easy to get a new look in the kitchen without spending a lot of time and money as well. HGTV designer Sabrina Soto suggests renovating countertops to instantly update the space.
"You can get a granite overlay, which is basically a very thin layer of granite installed on top of your existing countertops," she recently told Yahoo Finance. "The company comes, takes the measurements all down, then they come back and install it right on your countertops – no demolition necessary. It takes a few hours, maybe, when new granite countertops can take a lot longer than that and are a lot more expensive."
Bathroom
The average cost of renovating a bathroom is more than $11,000, according to a recent survey conducted by Houzz.com. It's easy to make a bathroom look great and serve as a type of retreat space by updating plumbing fixtures, changing the flooring and installing a new floor, complete with radiant floor heating.  
But smaller changes can make the space more esthetically pleasing and functional as well. For instance, instead of replacing the existing vanity, consider painting it and installing new hardware on your own. A fresh coat of paint on the walls, along with updated decor items can also make a big difference.
Soto suggests cleaning the grout between tiles by purchasing an inexpensive grout whitening product at your local hardware store. 
"You go over your white grout lines with this whitener, let it sit and then wipe it off. It is the easiest, most cost-efficient way to brighten up that bathroom," she told the website.
Curb appeal
Whether you plant a few flowers or invest in a landscaping redesign, changes to the outside of your home can make a big difference. 
Painting the entire house can be time-consuming and expensive. Budget-conscious homeowners can focus instead on painting the mailbox and front door.
Increase efficiency
While many energy-efficient products won't give you the "wow factor" like other projects, they will result in energy savings down the road. Consider projects including installing new windows and doors, improving insulation and purchasing more efficient appliances and plumbing products.
Like this post? Subscribe for regular updates
Make sure you don't miss out on the latest news in radiant heating by subscribing to our blog. We'll send you an email with links to the newest posts from WarmlyYours.
We won't share your information and you can unsubscribe at any time with a single click.
---
Did you find this post helpful?
Let us know by giving it some applause.
---
---