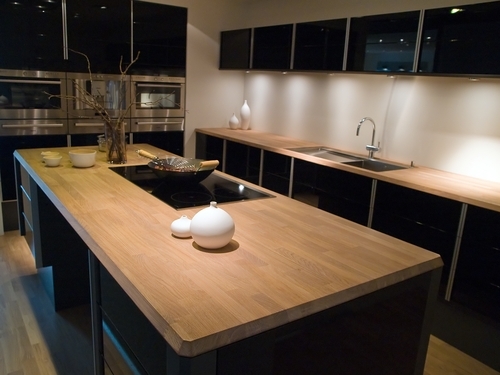 The kitchen isn't just one of the most used rooms in the home, it's also one of the energy-intensive spaces in any house. 
While some people embark on a kitchen renovation project in order to make a more beautiful and functional room, many choose to upgrade their kitchens in order to make them more environmentally friendly.
Of course a brand new "green" kitchen may be good for the environment, but some home owners worry about the costs involved. Design experts say the good news is that there are many ways to make your space more earth-friendly without spending a lot all at once.
Work with what you have
One of the best ways to update the look of your kitchen while being mindful of the environment is to use what you have. For instance, painting or refinishing your existing cabinets instead of purchasing all new cabinetry helps keep a large amount of trash out of landfills. 
If you're taking old cabinets out while doing a remodel, why not save them from being thrown away? Use them somewhere else in your home, like in a basement work room or garage for extra storage. You may even be able to donate them or sell them to offset the cost of your project.
Choose sustainable materials
If you must start from scratch, choose products that are eco-friendly. For instance, cabinets made out of bamboo are not only durable and look great, they are also easily renewable. Bamboo grows quickly and can be harvested easily, without damaging the plant or the environment.
When it comes to flooring in the kitchen, popular environmentally friendly materials include cork, bamboo, and tiles made of recycled materials.
Many homeowners also chose to install radiant heat under a new floor during a renovation project. This type of heat is not only comfortable, but it is more efficient than traditional heating systems as it does not depend on the use of ducts. Additionally, experts say individuals who use infrared heating can program their thermostats at lower temperatures without compromising comfort. This allows them to save significantly while keeping their home warm all year long.
Eco-friendly countertop options are also available these days. Some are constructed using recycled paper or glass as well as reclaimed wood. 
Opt for energy efficient appliances
One of the most popular ways to improve the efficiency of your kitchen is to purchase new appliances. Look for refrigerators, dishwashers, stoves and ovens with the best energy efficiency ratings possible to save money and natural resources. 
Other ways to make your kitchen greener include setting up a recycling center and committing to buying local food and produce. 
Like this post? Subscribe for regular updates
Make sure you don't miss out on the latest news in radiant heating by subscribing to our blog. We'll send you an email with links to the newest posts from WarmlyYours.
We won't share your information and you can unsubscribe at any time with a single click.
---
Did you find this post helpful?
Let us know by giving it some applause.
---
---