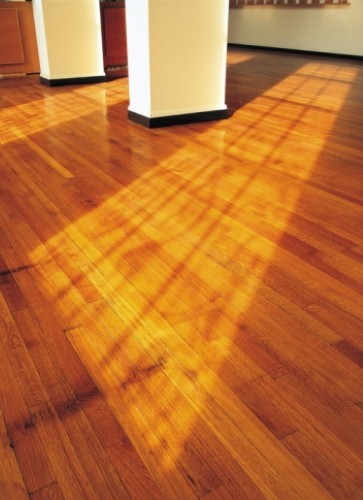 Green building materials have become an important part of the home design process, as homeowners look for methods to become more sustainable and save money in the long term. Flooring plays an enormous role in the energy-efficiency, aesthetics and eco-friendliness of a home, and oftentimes it will be one of the longest-lasting additions a home remodeler will make. With the rise of Earth-friendly home heating methods like radiant floor heating, it's vital to understand the ins and outs of these green floor coverings and how they will factor into your interior design and the overall layout.
1. Hardwood floors. On the surface, hardwood floors may not seem like the most green floor coverings since they come at the expense of trees, but many of these products are now harvested from renewable forests. This ensures that the natural habitat that is used to grow these products is sustained for future generations. Additionally, many homeowners have begun to explore reclaimed hardwoods that are made from old building materials that are resanded and refinished. Typically, the best options to be used with radiant heating are engineered floors, as well as floating floors that are not nailed or glued to the subfloor, according to HoskingHardwood.com.
2. Bamboo. This flooring type has many of the same characteristics of hardwoods, but in many ways is far more durable. These products are also considered eco-friendly, as they are harvested from renewable bamboo forests, many of which can grow back in mere months. According to BuildDirect.com, these floor coverings are incredibly strong and in many ways are the ideal choice to pair with radiant floor heating. Since many of these products are engineered and are treated with a variety of materials to improve their lifespans, they are more than adequate to stand up to the varying temperature changes that come with infloor heating.
3. Natural linoleum. While most homeowners may view linoleum as the cheaply-made products of the past, they are actually one of the most eco-friendly floor coverings on the market. Linoleum is actually made from a variety of natural ingredients, including dust, wood flour, tree resins, linseed oil, ground limestone and pressed into a jute backing, reports RemodelingRecon.com. Many of these floor coverings are also made from recycled content, so homeowners will be doing their part to remove this material from the waste stream. Since linoleum won't warp or cup like other flooring varieties, it is a wonderful choice to pair with radiant heating and can function beautifully in a kitchen, bathroom or hallway.
4. Cork flooring. Cork has gained traction in many design circles as a low-impact, moisture-resistant surface that's perfect for bathrooms, kitchens and basements. Cork flooring is made from the bark of the cork oak tree, which can be harvested regularly without having to cut down the tree entirely. These flooring types usually carry a whole host of recycled material, which helps to keep costs down and improve the eco-friendly nature of the floor covering. As long as the floors are properly sealed and not directly connected to the underlying subfloor, they can handle the subtle temperature changes that cause the material to contract and expand.
Flooring is one of the most important investments a homeowner can make during a remodeling project, and it will remain a fixture in the house for years to come. With the wide range of eco-flooring types now available, remodelers have more options than ever to make the environmentally-responsible choice while still incorporating many cutting-edge home heating technologies.
Like this post? Subscribe for regular updates
Make sure you don't miss out on the latest news in radiant heating by subscribing to our blog. We'll send you an email with links to the newest posts from WarmlyYours.
We won't share your information and you can unsubscribe at any time with a single click.
---
Did you find this post helpful?
Let us know by giving it some applause.
---
---