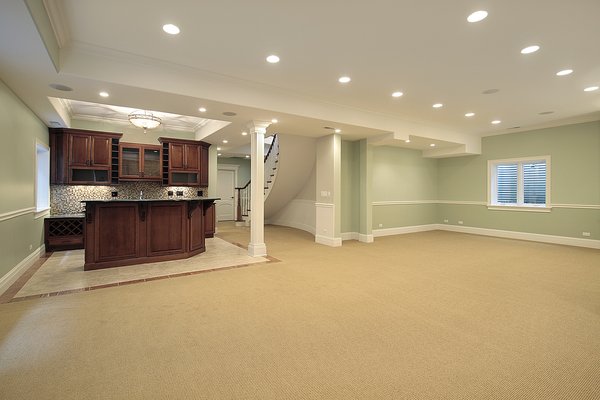 An unfinished basement space is wasted potential. You probably don't spend much time there because the concrete makes for a chilly atmosphere. The basement might even be your storage space. By finishing this part of your house, you are increasing the square footage of living space you have available to you. Furthermore, your home will have a higher market value.
To ensure you make the most of your space, there are a few things you should add to your checklist when finishing the basement.
1. Make Sure it's Dry
Check for any leakage in your unfinished basement. The presence of water could potentially cause mold and mildew, both of which are detrimental to drywall and carpet. Before you do anything else, seal the basement to protect the investment you are about to make.
2. Hire an Architect
Hire an architect to design a floor plan for your basement. Architects will work with you to create a space you'll love. After an initial meeting, he or she will draw a rough design that's not necessarily to scale. This will give you a basic understanding of what the final product could look like. You will either approve it or ask for changes. Once that's done, the architect will draw the floor plan. This will include proper measurements and will ensure the space meets local building codes.

3. Acquire Permits
Do not go ahead with any of the remodeling until you have obtained written permits. This will ensure the legality and safety of your basement remodel. Electric work is especially tricky and has its own set of codes to meet.

4. Find a Contractor
You have the option of hiring a contractor or completing the project yourself when it comes time to put the hammer to the nail. Depending on your skill level, a contractor will most likely complete the project more quickly. Bring him or her on after you've acquired the permits. However, before you hire help, you'll want to conduct interviews and generally get a sense of with whom you would most like to work. Visit a company's other job sites or talk to homeowners who have worked with them in the past. This should give you insight into the process.

5. Install In-floor Heating
This is the time to outfit your basement with floor-warming systems. Before adding carpeting, wood, tile, etc., to your basement remodel, install a system that will heat the floor. As the ground is currently just a concrete slab, installation will be very easy.

First, you should install a layer of insulation to keep the concrete slab from absorbing any of the heat. We recommend our CeraZorb® synthetic cork or natural cork underlayment. Then, you can lay out our TempZone™ or Environ™ electric rolls, mats or cable and install your finished floor on top. Once it's done, the heated floors will serve to keep your basement warm.
The basement is typically the coolest area of the house, but radiant heating will change that. Imagine your cold, concrete basement completely transformed into a comfortable sanctuary.
6. Finish Up
The final step in the basement remodeling project is to actually begin the work. Whether you're adding bedrooms, a bathroom or a recreational space, you'll need finished floors, walls and ceilings. Design your lighting plan so that it adds warmth to the space. With the right fixtures and your floor-warming system in place, your finished basement will become a cozy retreat.

To share how finishing your basement with in-floor heating transformed your home, comment on the WarmlyYours Facebook page or tweet us at @WarmlyYours.
For more information, visit www.warmlyyours.com.
---
Tell us About your Project
Our team of Radiant Experts is ready to help! Just tell us a little about yourself and your project to get started.
---
Did you find this post helpful?
Let us know by giving it some applause.
---
---