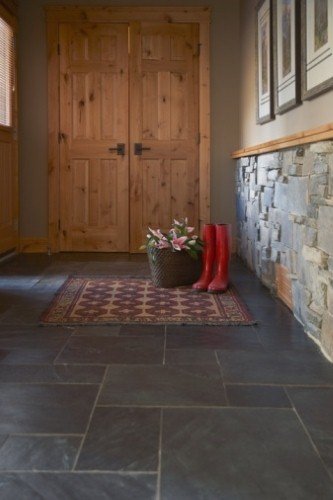 While it can be a bonus to have a basement or a den serve as another living space in your home, it's important to keep in mind that this area requires proper insulation in order to be used throughout the year. Even if you don't live in a portion of the country that has harsh winters, basements will be cooler than the rest of the house because they are underground.
If you want your extra space to be comfortable and warm during all four seasons, there are a couple of things you can do. First, think about installing radiant heating beneath your flooring to make it warm and inviting during the year. Radiant heat is fairly easy to install and can help make a room more usable, regardless of the season. It is comfortable under foot and can make a basement feel like any other room of a home.
CeraZorb® Synthetic Cork Underlayment is one option that you might want to consider when renovating your basement. It is lightweight, heat and cold resistant and will not rot, which is ideal in an underground room that may be prone to moisture. CeraZorb Synthetic Cork Underlayment is also ideal on concrete flooring and easy to install.
The Chicago Tribune recommends replacing the windows you have in your basement with double-pane glass. Unlike single-pane, this variety offers two layers of protection against the elements outside. Double-pane windows can substantially cut down on energy costs and help retain warmth in underground areas.
If there is a basement door that leads to the yard, you might also want to think about insulating any drafts that may be coming through. This can be done by simply installing weather stripping at the foot of the door, which can go a long way when it comes to conserving energy.
Another measure that many homeowners take is putting in a programmable thermostat to avoid using more heating or cooling than necessary. This is also a great way to make sure that your home is at the proper temperature while you are away.
Once you have finished installing insulation to maintain the temperature in your basement, consider the furnishings you have in the room. For instance, placing rugs on the floor can help retain heat, especially on solid flooring. When it comes to window treatments, put up thermal curtains to help with your energy conservation efforts. Making these small changes to your furnishings and decor can save you money by reducing heating costs.
---
Tell us About your Project
Our team of Radiant Experts is ready to help! Just tell us a little about yourself and your project to get started.
---
Did you find this post helpful?
Let us know by giving it some applause.
---
---