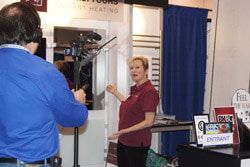 There was a lot of love at the Kitchen and Bath Industry Show (KBIS) this year! WarmlyYours has a long history with KBIS, as I've had the opportunity to do business with the major "movers and shakers" in the kitchen and bath industry since 1996. And when WarmlyYours was founded in 1999 - KBIS became known as the "WarmlyYours Home Show" – it's like our home turf so to speak. Every year that KBIS comes around, we are so happy to spend time with customers who have become near and dear to us throughout the years.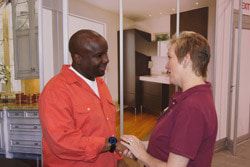 We were especially excited to "show" at KBIS this year! After surviving through the recession in 2009, which negatively affected everyone in the kitchen and bath industry, we did our best to use the downturn in the market to expand our product offering - all in an effort to bring in new streams of revenue. With folks investing less into remodeling and the new construction industry at a stand still, we wanted to bring a product to the market that hit on all the major needs of today's consumer.
We wanted a "green" product that provided a heating solution while being stunningly beautiful all at the same time. And, we found all that and more in our new Lava® glass infrared radiant heating panel systems.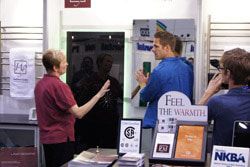 So, after finding the right product, we thought that KBIS was the perfect place to unveil it. I wanted the kitchen and bath world to have the first glimpse of this wonderful new product that can be easily wall-mounted in any room while providing a quality of heat that is healthy and eco-friendly. And, I must say, WOW, what a reception Lava® received! From the beginning where attendees of the show were curious to approach this beautiful work of art that radiated warmth - to the TV show camera crews filming me as I had the opportunity to demonstrate the product – to the big coup, winning KBIS "Best of Show!" I mean, "You like me - you really, really like me!" Ahem, oh, sorry for the misquote Sally, but gosh it really did feel SO great! To be at KBIS, surrounded by the people that WarmlyYours has been doing business with for … oh, way too many years to count, and to win this great honor of "Best of Show," boy do we feel the KBIS love! We'll be back next year, without a doubt!
Well, that's all for now, friends! - Julia Billen, President/Owner of WarmlyYours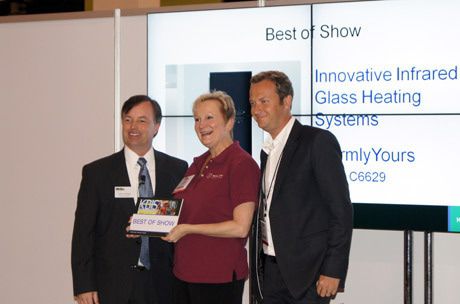 Like this post? Subscribe for regular updates
Make sure you don't miss out on the latest news in radiant heating by subscribing to our blog. We'll send you an email with links to the newest posts from WarmlyYours.
We won't share your information and you can unsubscribe at any time with a single click.
---
Did you find this post helpful?
Let us know by giving it some applause.
---
---