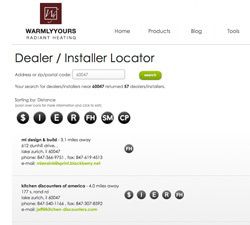 Back in the last century, before the Internet, how did you find the names and phone numbers of businesses in your area? You probably used the now dusty and long-forgotten, massive phone directory called The Yellow Pages. These books, though great for use as a child's booster seat, have now proven to be unnecessary for household use if you have a computer with Internet access.
With the dawn of the information superhighway, a new predicament emerges when seeking a reputable business that sells the products and offers the services you're seeking; either the options are many or too few. A random search on the Internet could yield unending or unrelated results. And, life shouldn't be so complicated. Now that we've told you about the problem, read on for the WarmlyYours solution!
WarmlyYours understands the demands and difficulties of this dilemma for our customers, and in an effort to continually keep the customers' needs in mind; WarmlyYours has a database of recommended and highly qualified WarmlyYours dealers, contractors, electricians, and installers, right at your fingertips … or mouse click. On our website www.warmlyyours.com, you can easily find this database by looking under the heading, 'tools,' and clicking on the 'dealer/installer locator' option from the dropdown menu. Then all you need to do is type your zip code into the box provided and a list of WarmlyYours recommended dealers in your area pop up like magic. These are contractors, electricians, resellers, and installers who have all met WarmlyYours required criteria and who also maintain contact with WarmlyYours as a safeguard so that their product knowledge is always current and up-to-date. We've done the work so that you don't have to!
And the convenience doesn't stop there. Out of the many WarmlyYours dealers that will result from your search, you are able to filter through them according to your specific project needs. Suppose you want to know which ones not only sell WarmlyYours products but offer electrician services as well. No need to call and find out, because just by looking at the results of your search, you are able to sort through them according to the WarmlyYours products they sell and the other services they provide.
The dealer/installer-locating feature is yet another way that makes WarmlyYours stand out above the rest. We do everything with our customers in mind. We're making comfort easy by taking the guesswork out of the equation and making accessibility the goal. Let's see the old phone book do that!
Visit our Dealer & Installer Database.
Like this post? Subscribe for regular updates
Make sure you don't miss out on the latest news in radiant heating by subscribing to our blog. We'll send you an email with links to the newest posts from WarmlyYours.
We won't share your information and you can unsubscribe at any time with a single click.
---
Did you find this post helpful?
Let us know by giving it some applause.
---
---