It's easy for many homeowners to become so caught up in the excitement of a kitchen-remodeling project that they may overlook important aspects that are crucial to the design. Below you will find useful tips to maximize the functionality when designing your kitchen-remodeling project.
We know it is tempting to dive right in and start tearing down walls in order to create more open space, but it's important to take a step back and consider the results of doing so. Consult a structural engineer before you start making any major changes to your home to ensure the remodeling work will be structurally sound.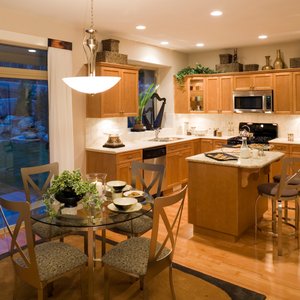 This is also where patience plays a role. Before starting a remodeling project, be patient and make sure you take your time to consider each option carefully. Working too fast can lead to faulty installations and costly mistakes. Cabinetry may need to be customized and appliances need correct measurements in order to be fitted properly.
When designing your kitchen, keep in mind the functionality as well. You probably don't want to walk a long distance from one kitchen appliance to the other. It's not practical. A kitchen should not only look good, it should be highly efficient and easy to utilize.
In order to achieve the most functionality in a kitchen, there is a design concept called the work triangle. The work triangle connects the sink, refrigerator, and stove in a time-honored design principal. By employing this design, you can accomplish more tasks with fewer steps around the kitchen.
Another key design principle is what many builders call "landing" areas or zones near the point of the triangle. These zones are near the refrigerator, microwave, and stove so that you can set down food items when needed, saving you multiple trips to the fridge or rescuing your fingers from a piping hot dish from the microwave.
A kitchen design should be smart and accessible. Inconvenient cupboards and inadequate countertop space leads to a dysfunctional kitchen and unhappy homeowner.
When installing cabinets and drawers, it is important to ensure that they will be at a convenient height and within easy reach. No one wants to bend over backwards to find a needed kitchen appliance hiding in the back of a bottom corner cupboard. Ideally your kitchen remodel should be designed to accommodate you and your family's size, function, and purpose.
---
Tell us About your Project
Our team of Radiant Experts is ready to help! Just tell us a little about yourself and your project to get started.
---
Did you find this post helpful?
Let us know by giving it some applause.
---
---