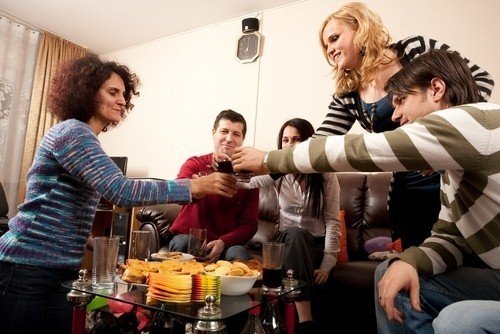 Summer is moving season, and whether you know a young couple who'll invite you to an apartment painting event with the allure of pizza or you're heading to a family's new four-bedroom home in a prime suburb just outside the city, you should bring a gift. It's just tough to figure out what.
Housewarming gifts are the most difficult of presents because they're never asked for or expected, but entirely traditional. Despite your budget or creativity, consider these six options for the perfect gift, or at least use them to help you think of one.
1. The cleaning supplies gift bucket. Forget that traditional wicker gift basket - what will that be used for besides regifting? Instead, fill a useful mop bucket with a plethora of cleaning supplies. Why not go green with an all-natural, eco-friendly theme? No one really wants a bucket of chemicals.
2. The magazine subscription. Get them a local magazine packed with advice on all the best restaurants or day trips, a quarterly tome on interior design and home decoration or just the kind of New Yorker or Newsweek weekly that's a pleasure to find in your mailbox. Nothing celebrates a new address quite like a magazine subscription.
3. The towel warmer or mirror defogger. This is the housewarming gift for the person or couple who has everything. Towel warmers and mirror defoggers like the kinds made by WarmlyYours are simple but enjoyable amenities fit for any new home's bathroom.
4. The houseplant. If this sounds too traditional or tacky, subvert expectations by picking an unusual or exotic piece of fauna. Just be sure that whatever you go with fits the home's décor. No one should feel pressured to accommodate a Venus flytrap into their French countryside kitchen design.
5. The eco-friendly, organic candle. Candles can be pricey, especially the nicer organic brands. Indulge the new homemakers' senses with a seasonal scent, or if they've moved a distance from some other climate, maybe you could invest in a smell that will curb any homesickness.
6. The gourmet chocolates. The easiest and ultimate housewarming gift - it's a rare individual who turns down a delicious collection of chocolate. These treats are a welcoming, rich and mouth-watering gift that won't clutter a kitchen counter stacked with moving boxes.
---
Tell us About your Project
Our team of Radiant Experts is ready to help! Just tell us a little about yourself and your project to get started.
---
Did you find this post helpful?
Let us know by giving it some applause.
---
---