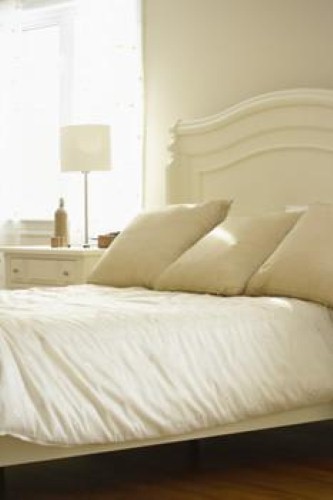 If you're thinking about ways to make your master bedroom more comfortable, you might want to consider making changes to your existing furnishings and splurge a little bit to make the space more welcoming. After all, the master bedroom is an area where you will be spending an ample amount of time while you're home.
One way that you can instantly the room a sense of luxury is by installing radiant floor heating. A trusted professional can easily install this for you and, in turn, you won't have to turn up the thermostat to stay warm. This benefit makes radiant heating an economical way to reduce your carbon footprint.
In addition to installing radiant floor heating, think about investing in a new bed to truly improve the comfort of your master bedroom. Don't just switch out the mattress for a new one - buy a new bed frame, sheets and comforter if necessary. A new bed can make a world of difference when it comes to loving a master bedroom and looking forward to spending time in it. Although it might be something you have to splurge on, you'll be happy you made the investment.
If your bedroom isn't exactly the biggest space in your home, make it feel larger with multipurpose furniture and get rid of any pieces that are bulky and overwhelming. Think about adding a brighter color of paint to the walls as well to open up the space and make it appear bigger.
In addition to brightening up your space, you might want to bring in one or two mirrors that can help reflect light throughout the bedroom. Mirrors don't always have to be used over a vanity - think about hanging them in other areas of the room as a form of art.
Finally, remember to add your own finishing touches to the master bedroom to truly make it your own. This might mean bringing in an oversized, comfortable armchair or a fluffy rug to situate beneath your bed. If you love art, don't hesitate to bring in paintings or sculptures you love if you want to add make a space feel more cultured. Adding personalized elements to your bedroom can make it a special place that both you and your loved one can enjoy.
Like this post? Subscribe for regular updates
Make sure you don't miss out on the latest news in radiant heating by subscribing to our blog. We'll send you an email with links to the newest posts from WarmlyYours.
We won't share your information and you can unsubscribe at any time with a single click.
---
Did you find this post helpful?
Let us know by giving it some applause.
---
---