Bordered by Indiana in the east and the Mississippi River in the west, Illinois has been nicknamed "the Prairie State" as it's marked by farmland, forests, rolling hills and wetlands. It's largest metropolitan area, Chicago, is also one of the largest cities in the U.S, situated northeast on the shores of Lake Michigan. It's famous for its skyscrapers, such as sleek, 1,451-ft. Willis Tower and the neo-Gothic Tribune Tower.
As for the climate, winters are notoriously cold especially in northern Illinois so any relief from the frigid weather is welcome. Enter electric radiant floor heating. It brings the heat and soothing comfort to help minimize winter's cold effects. Floor heating rolls or mats cost between $10 and $12 per sq. ft. in Illinois. An entire electric floor heating system can be purchased for under $600 for a typical tile bathroom in Illinois, while an underfloor heating system can cost less than $1,000 for an average kitchen. 
Examples follow of several different rooms along with the costs for adding radiant floor heating to each one with various flooring types, including the effectiveness of underfloor heating when added to one of the most used rooms in the home, the kitchen. 
Laminate Flooring is More Comfortable with Radiant Floor Heating
As plans for their kitchen remodel got underway, these Land of Lincoln homeowners realized it would be a good idea to add electric underfloor heating to warm up the new laminate flooring they had selected.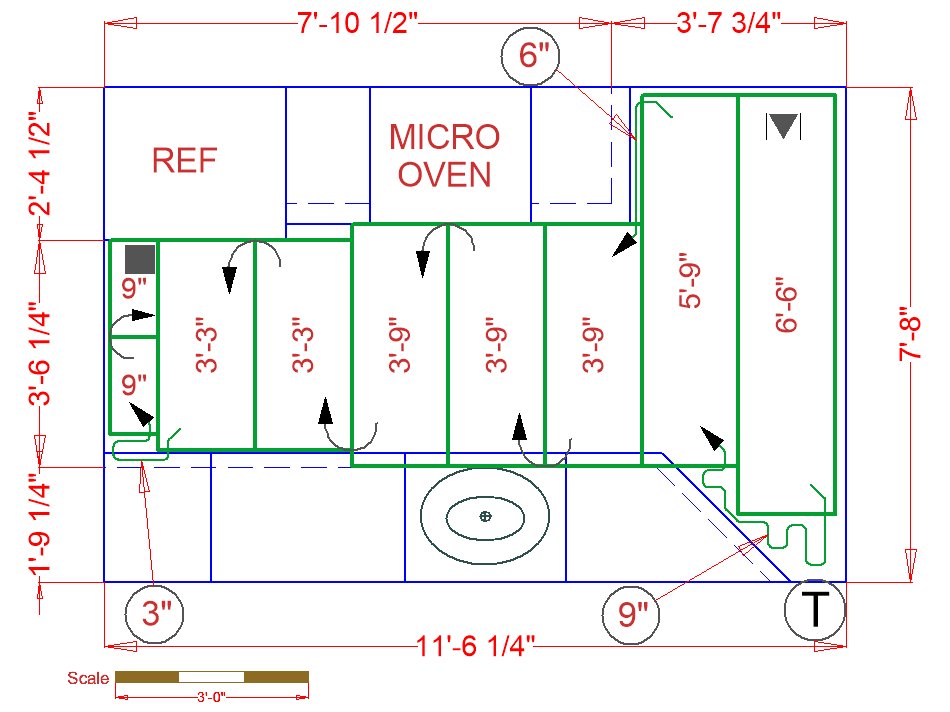 They chose to install a 1.5 x 25 ft²  Environ™ Flex Roll floor heating system in the 89 sq. ft. space for just $356.00 at a cost of just under $9.50 per square foot. The cost of operating the system should also be evaluated when budgeting the project. WarmlyYours has these useful online tools to help you figure that out. Based on data from WarmlyYours's Operating Cost Calculator it costs just 17 cents to warm this kitchen floor for eight hours a day. Another benefit is that this system can be a primary heat source for the room without incurring additional heating bills, a substantial energy and utility savings.

See If Radiant Heat Can be a Primary Heat Source in Your Room
First you start by determining how much heat is being lost. WarmlyYours's Heat Loss Calculator will need just a few details about your desired room temperature, including how well your room is sealed, and other specifics. Then the tool calculates whether or not radiant floor heat can be your primary heat source.



In this case, the kitchen is located above a basement and the ceilings in the room are 9 feet. Based on WarmlyYours's Heat Loss Calculator, a floor-heating system can indeed be the primary heat source for this room so no additional heating will be necessary; an added value as it translates to substantial cost and energy savings. If the room contained significant heat loss indicators, radiant floor heat would instead be recommended as a supplementary heat source. By visiting WarmlyYours's Heat Loss Calculator you can see for yourself whether or not radiant heat can be your room's primary heat source.
Floor Heating Takes the Chill Off Cold Bathroom Tile
These Rockford homeowners needed to warm up the elegant but cold tile flooring in their newly remodeled bathroom, so they decided to add underfloor heating to their medium master bath. They also wanted to add the welcoming warmth and luxury of radiant heating to their daily routine.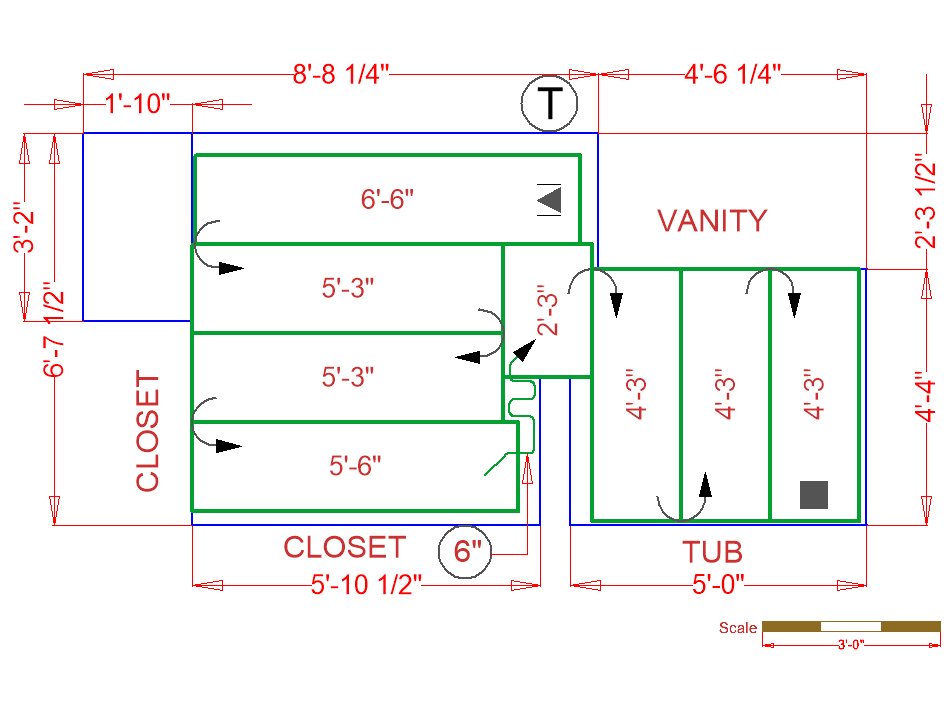 For their project, these owners selected a 1.5- by 38-foot TempZone™ Flex Roll to install in their 70-square-foot bathroom. The cost was only $598.50 or $10.50 per square foot. Along with the material cost, the operating cost should also be factored into the remodeling budget. WarmlyYours' Operating Cost Calculator figures in the average kWh cost in Rockford, IL of 10.44 cents resulting in a daily cost of approx. 42 cents to heat this bathroom for four hours a day, a small price to pay for the comfort and luxury of a soothingly warm bathroom tile floor. Furthermore, the system can be the primary heating source for the room which is an additional cost and energy savings advantage.
TempZone™ Cable Warms up this Office for Less than a Dollar a Day
This Springfield homeowner decided to install radiant heating during a recent remodeling of her home office to improve the functionality and comfort level during the winter months. The system was designed to heat the floors of their office with 300 feet of 120-volt TempZone™ Cable for $480.00.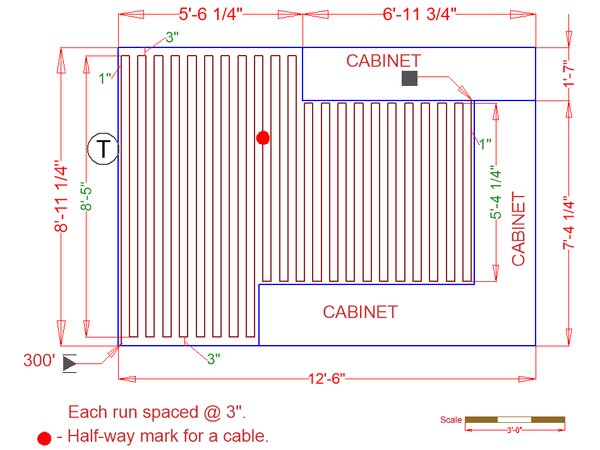 That amounts to just $6.40 per square foot. By adding a nSpire Touch programmable thermostat for $199, it brought the total to $679.00. It's important to consider the operating cost of your floor heating system when budgeting for your own project. WarmlyYours makes it easy for you with our Operating Cost Calculator. Based on the data from this tool, the cost to operate this system for 8 hours a day is just 80 cents. This calculator factors in the average kWh cost in Springfield, which is just slightly less than 10 cents. Best of all, this radiant heating system can be the primary heat source for the room so there's no need for additional heating and higher energy bills.
Radiant Heated Floors Extend Your Living Rooms' Livability
When remodeling their living room to replace their carpet with engineered wood flooring, these Chicago homeowners chose to enhance the rooms livability by adding underfloor heating.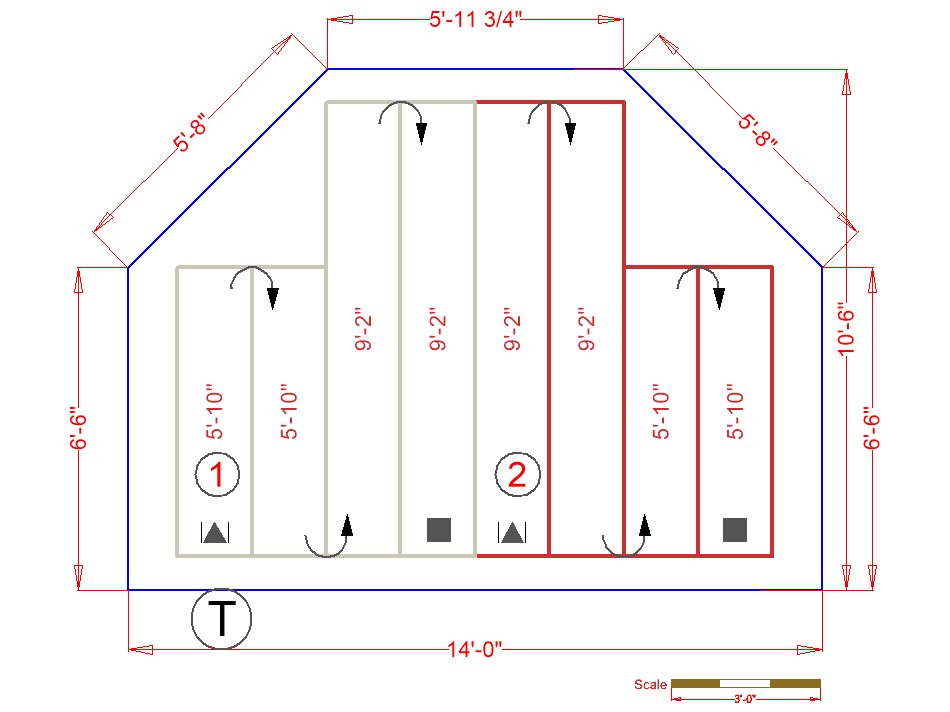 To incorporate the radiant floor heating, the homeowners installed two 1.5- by 30-foot Environ™ Flex Rolls in their 131-square-foot living room for $856.00 at a cost of just $9.51 per square foot. The cost to operate the system should also be considered when planning your budget. WarmlyYours' Operating Cost Calculator shows it only costs 71 cents to heat this living room for eight hours a day and according to our Heat Loss Calculations, it costs less than $22.00 to heat the living room during the coldest month of the year, a small price to pay for the comfort and luxury of a radiantly warm living room with soothing warm floors. An added benefit is that the radiant heating system can be the primary heat source for the room so there's no need for additional heating.
Online Quote Builder Tools = Radiant Heat Pricing Options
To see how much it would cost to heat any room in your home you can check out WarmlyYours' Radiant Floor Heating Quote Builder tool online. By submitting some information such as square footage of the room and flooring type, you'll see a side-by-side comparison of all the radiant heating options for your room, with corresponding costs. 
In addition to the Quote Builder tool, you can also upload your floor plan online to get a more detailed installation plan, which shows exactly how the floor-heating system should be laid out. This plan makes installation easier for you or your installer and also gives our technical team more information to help you during your installation if you have any questions. For your convenience, our technical support experts are available 24/7 at 800-875-5285. 
If you are considering an outdoor heating application such as a heated driveway, walkways, or patio we have a Snow Melting Quote Builder to make your project planning easier too. 
How Much Does It Cost to Run Your In-floor Heating System? Check Out Our Operating Cost Calculator 
Once you've selected a floor heating system and decided how you'll use it, it's a good time to find out how much it will cost to operate. The Operating Cost Calculator is a useful online tool that will ask basic project questions such as product type, room size, local energy rate and daily usage in order to calculate the daily, monthly and annual operating cost of your system. It's easy to use. To get started, check it out here.
For more information, visit our website at www.warmlyyours.com. Whether you live in Illinois or another state that could benefit from radiant heating WarmlyYours has the solution for all your heating needs.
---
Tell us About your Project
Our team of Radiant Experts is ready to help! Just tell us a little about yourself and your project to get started.
---
Did you find this post helpful?
Let us know by giving it some applause.
---
---